Giuliani Vehemently Denies He Was Drunk During Infamous Hannity Interview: 'I'm Insulted'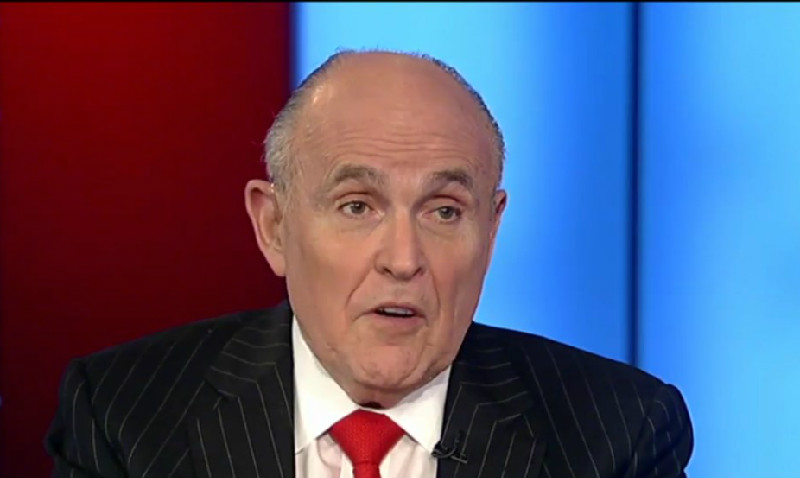 Over the past few days, Trump attorney Rudy Giuliani has raised more than a few eyebrows due to his erratic and rambling television interviews. On Wednesday night, Giuliani told Fox News' Sean Hannity that the president repaid attorney Michael Cohen for the $130,000 hush payment given to adult film star Stormy Daniels, opening up a whole can of worms. This was followed by other TV hits in which the ex-New York City mayor connected the Stormy hush agreement to the 2016 election, stroked himself like a cat, and suggested Cohen may have paid off more women for Trump.
Giuliani's behavior has been so unhinged that some have been openly questioning whether it is the result of the former mayor imbibing a bit too much. During Tuesday's Morning Joe broadcast, co-host Joe Scarborough noted that Trump said that Giuliani was "drinking too much" and "losing it" during the transition, something Mika Brzezinski confirmed. And on Friday, MSNBC's Chris Matthews openly suggested that Giuliani had drinks before hitting the air with Hannity.
Regarding Scarborough's comments, Giuliani told Politico that none of that was true while stating that he was far more intelligent and accomplished than the former congressman:
""None of that is true," Giuliani said of Scarborough's remarks in an interview Tuesday afternoon. "I'm not sleeping now. I'm in Dallas. I'm wide awake. I've handled numerous cases including some sensitive cyber matters. I'm a lot more aware and intelligent than Joe has ever been and a lot more accomplished. Joe hasn't been knighted by the Queen of England. He hasn't run a U.S. attorney's office, much less a city that he turned around or went through 9/11."
As for the allegations about his drinking, Giuliani acknowledged being a social drinker but said he doesn't have alcohol early in the day.
"I'm not drinking for lunch," he said. "I may have a drink for dinner. I like to drink with cigars.""
As for the notion that he had tossed a few back before his Hannity interview — Politico reported that two political insiders saw Giuliani at one of his favorite New York clubs before the interview — America's Mayor couldn't remember if he went before or after the Hannity appearance. At the same time, he vehemently denied that he was drunk on-air.
Per Politico:
"A person familiar with the interview said Hannity didn't smell alcohol on Giuliani's breath or otherwise notice that the Trump lawyer had been drinking. Giuliani also dismissed the question of whether he'd had any alcohol before going on Hannity's program. "I'm insulted," he said. "It's extremely insulting. There's no proof of any kind that I take too much alcohol. That's ridiculous.""
Well, there you go.