Now Giuliani Is Opening Up The Possibility That Michael Cohen Paid Off Other Women For Trump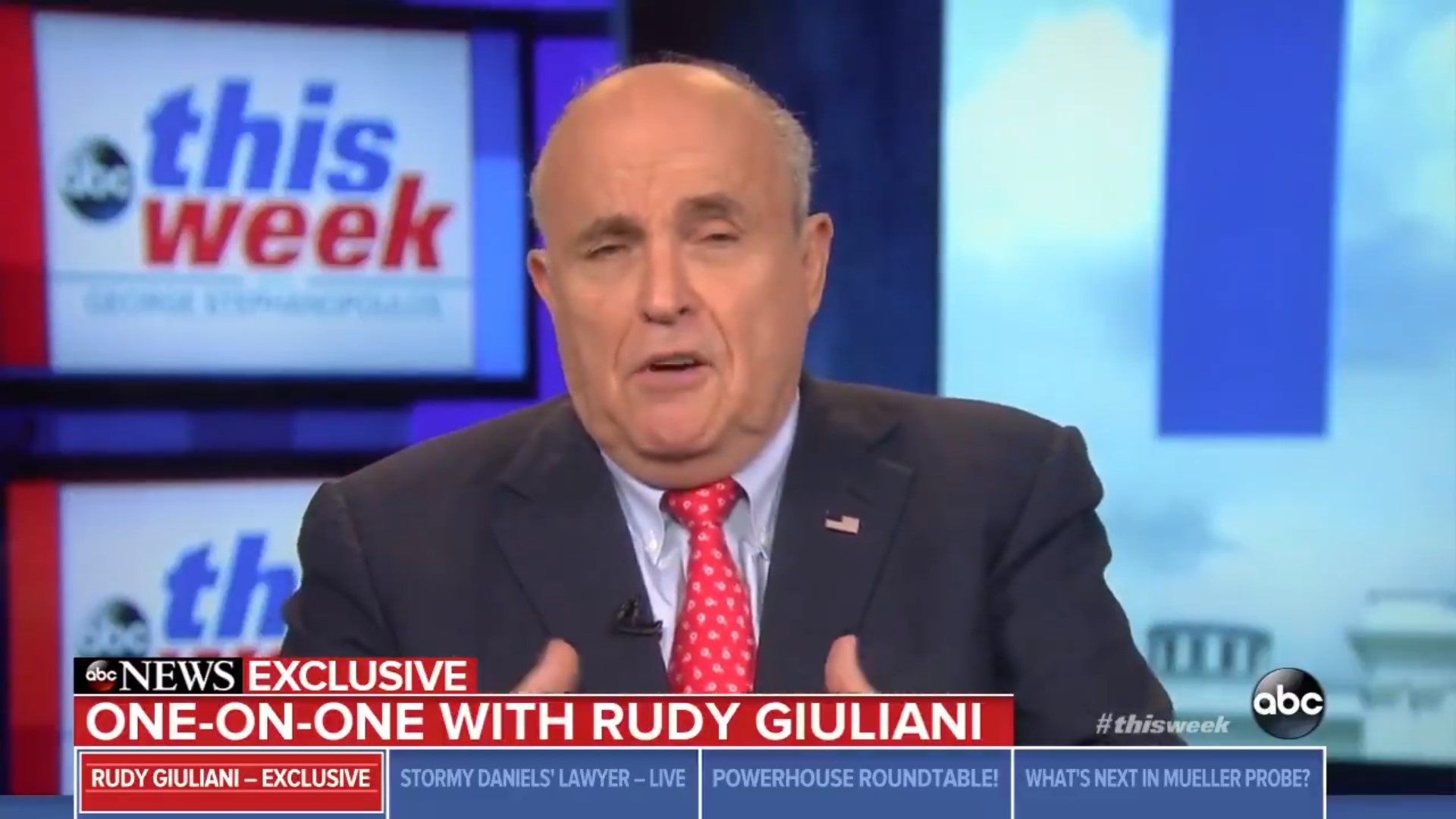 I'm sure this is all part of some 11-D chess or something.
In the wake of a string of disastrous television interviews in which he claimed that President Donald Trump reimbursed his attorney Michael Cohen for the $130,000 hush payment made to Stormy Daniels and linked the payoff to the 2016 election, Trump lawyer Rudy Giuliani continued to further incriminate the president during an ill-advised appearance on ABC's This Week.
At one point in his conversation with host George Stephanopoulos, the former New York City mayor — who during the interview he is still trying to get up to speed on the facts — was asked if Cohen made any other payments to women on behalf of Trump in order to keep them quiet.
"I have no knowledge of that. But I would think if it was necessary, yes," the president's legal expert responded. "He made payments for the president. Or he conducted business for the president."
Umm, yeah. So we can now toss "maybe Trump has more NDAs with women out there" onto the pile of crap that Giuliani has shoveled on top of the president's head since joining his legal team. Rudy's just doing a bang-up job there!
Check out the clip below, via ABC News.
Did Michael Cohen make payments to other women on behalf of the president? Rudy Giuliani tells @GStephanopoulos: "I have no knowledge of that, but I would think if it was necessary, yes." https://t.co/R6JsMQN9yM pic.twitter.com/Ol0Hpb0Xp9

— This Week (@ThisWeekABC) May 6, 2018
After Rudy's interview ended, Stephanopoulos brought on Daniels' attorney Michael Avenatti, who reacted pretty much as you thought he would, asking if he was being "spooked."
"An absolute, unmitigated disaster for Rudy Giuliani and the president," the publicity-seeking lawyer said. "I think it is obvious to the American people that this is a cover-up — that they are making it up as they go along."
Watch Avenatti's reaction below.
Avenatti on Giuliani's interview: "An absolute, unmitigated disaster for Rudy Giuliani and the president… I think it is obvious to the American people that this is a cover-up; that they are making it up as they go along." (via ABC) pic.twitter.com/VRd4SYfugb

— Kyle Griffin (@kylegriffin1) May 6, 2018