Sen. Portman: Republicans Should 'Send a Message' to Marjorie Taylor Greene, But Her Supporters Should Be 'Respected'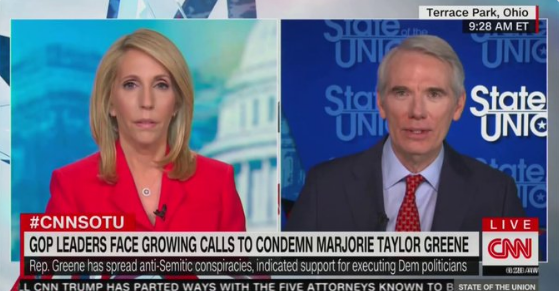 Sen. Rob Portman (R-OH) called for Republican House leaders to take action against QAnon-supporting Rep. Marjorie Taylor Greene (R-GA) over her violent and conspiratorial rhetoric, saying on Sunday that stripping her of her committee assignments would "send a message."
Appearing on CNN's State of the Union, Portman—who recently announced that he will not seek reelection in 2022—spent much of the interview hemming and hawing over whether or not he'd support impeaching former President Donald Trump for inciting the insurrectionist Capitol riot earlier this month.
"If you don't vote yes aren't you excusing it? You say it is inexcusable," anchor Dana Bash confronted the outgoing senator. "If you don't vote yes, one could argue you are doing just that. You are excusing the behavior."
Watch the video above, via CNN.
Read the rest of the piece at The Daily Beast.