GOP Governor Says QAnon Supporter Marjorie Taylor Greene Shouldn't Be Punished for Thinking 'Something a Little Bit Different'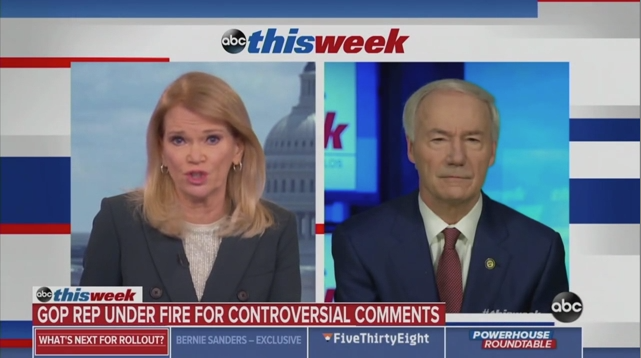 Gov. Asa Hutchinson (R-AR) downplayed the extremity of the ideas embraced by freshman congresswoman Marjorie Taylor Greene (R-GA) during an interview with ABC's Martha Raddatz on Sunday.
Greene, a QAnon supporter, has pushed conspiracy theories about 9/11, the murder of Democratic staffer Seth Rich, school shootings, and the 2017 Las Vegas country music festival shooting, among other things, as documented by Media Matters for America. In addition, CNN reported that on Facebook she "repeatedly indicated support for executing prominent Democratic politicians in 2018 and 2019."
And yet when asked whether Greene is "fit to serve" given her history, Arkansas' Republican governor balked.
"I don't think we ought to punish people from a disciplinary standpoint or a party standpoint because they think something a little bit different," Hutchinson replied.
Republicans have made Greene a member of committees that handle the budget and education and labor issues. House Minority Leader Kevin McCarthy (R-CA) recently said her comments are "disturbing" and that he "plans to have a conversation" with her about them. But just after Greene was elected, McCarthy also falsely claimed she had denounced her QAnon views.
When pressed about Greene's conspiracy-mongering, Hutchinson said he wouldn't vote for her, but added that it would be in the best interest of the Republican Party if she wasn't primaried in 2022.
Watch the video above, via ABC.