Former Illinois Senator Comes to Biden's Defense: 'He Was There Doing a Nice Favor' For Lucy Flores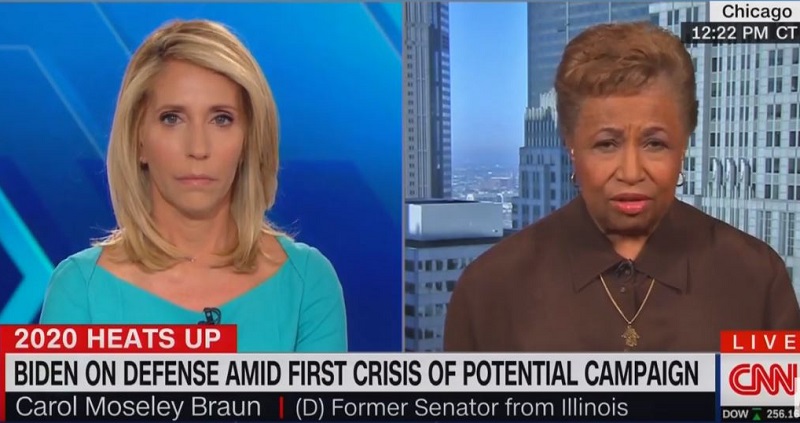 Former Illinois senator Carol Moseley Braun became the latest longtime Democrat to defend Joe Biden against charges that he made inappropriate physical contact with Nevada assemblywoman Lucy Flores at a campaign event in Nevada in 2014.
Speaking to Dana Bash on CNN on Monday, Moseley Braun called Biden "a man who has spent his life being nice to people and trying to help people and serving the public and serving individuals" and praised him for having been at the event as a favor to Flores, who was running to be Nevada's lieutenant governor, and other Democrats.
Moseley Braun also criticized Flores' assertion that she felt "powerless" during the encounter and said that she did have the power to tell Biden that she felt "creeped out" by his attention. This prompted Bash to push back, noting that "sometimes if you're in a situation…you don't necessarily say what you want to say in that moment," particularly if you are about to go onstage with the vice president of the United States. As others have noted, there was a power imbalance between Flores and Biden that haunts many of the similar encounters that women have reported having with male superiors for decades.
Moseley Braun responded by saying she was not trying to cast doubt on Flores' story, and that she applauds the "culture shift" that is driving more women to feel empowered to speak out about such incidents. At the same time, she reiterated that she believes Biden is "the wrong person to make that kind of allegation about."
Bash then read from a statement Biden released on Sunday and asked Moseley Braun if it was enough. The former senator replied that she does not know what more Biden could do besides what he did, which was to apologize and "take note" of the situation. "He hears her," Moseley Braun added, while saying she believes what happened has been "taken out of context."
Moseley Braun's appearance follows the pattern of longtime Democrats — and even some Republicans — dismissing the allegations against Biden. While noting their seriousness and being careful not to cast aspersions on Flores, they also defend what happened as "Joe being Joe." Whether that will mollify Democrats who have become very vocal over the last two years about issues of sexual harassment and power remains to be seen.
Watch the entire clip up top, via CNN.