Tapper Warns Capitol Riots Could Be 'Only the Beginning' If Republicans Aren't Held Accountable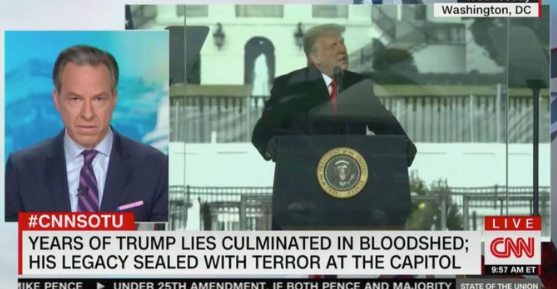 CNN State of the Union host Jake Tapper demanded accountability of Republicans in Congress who helped support President Trump's conspiracy theories which led to his supporters launching a deadly riot at the Capitol on Wednesday.
"Trump had been lying to his base, telling them that Pence could overturn the election, and it was not until the day before that Pence made clear he had no power to do so. The president all but handed the mob a noose. The ones who committed violence, they're being arrested," Tapper said.
"But what about those who incited this attempted coup who remain in our midst? What about those who lied, the 126 House Republicans who signed on to that mendacious lawsuit, the 147 House and Senate Republicans who, even after blood had been shed, supported sedition, supported disenfranchising millions of legal voters because the states went for Biden?"
Tapper wondered if there will be consequences for Sens. Ted Cruz and Josh Hawley — "whose legacies are forever stained by blood" — or if they'll just "be allowed to pick up their committee assignments and try to move on?"
Tapper closed with a warning:
"What happens to our country if we continue to pretend leaders who played a role in this attempted coup — in this terrorist attack — end up doing just fine with no consequences at all? Will January 6, 2021 be remembered as only the beginning?"
Watch the video above, via CNN.