Steve Scalise Maintains Support for Lawsuit to Disenfranchise Voters While Claiming 'Millions of People Feel Very Frustrated' by Voting Process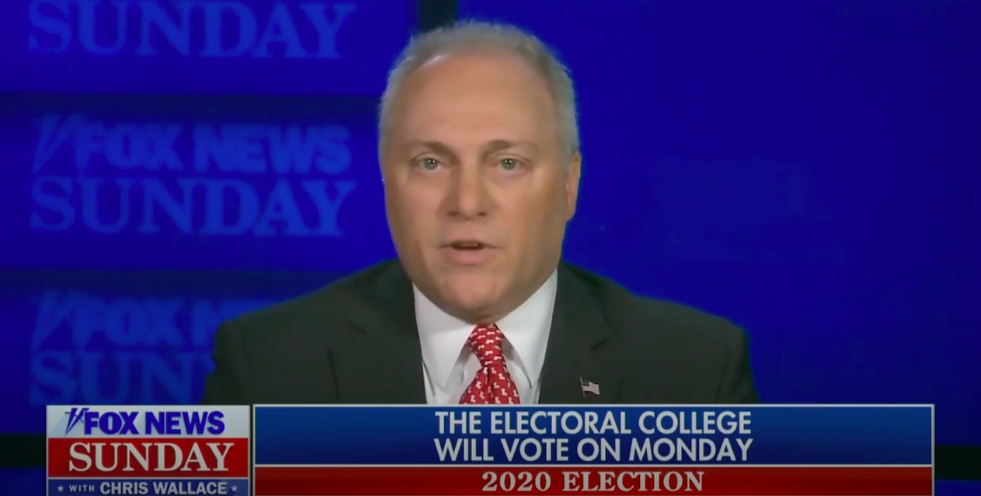 Fox News anchor Chris Wallace confronted House Minority Whip Steve Scalise (R-LA) on Sunday over his support for the Trump-backed Texas lawsuit rejected by the Supreme Court, pressing the conservative lawmaker on his eagerness to toss out millions of votes for President-elect Joe Biden in order to overturn last month's presidential election.
Scalise, the second-ranking Republican in the House of Representatives, joined 125 other House Republicans in signing on to the last-ditch lawsuit by Texas Attorney General Ken Paxton that sought to disenfranchise four states whose residents voted for Biden. President Donald Trump and attorneys general from 18 states that voted for Trump also filed briefs in support of the suit, which was tossed by the Supreme Court on Friday.
Noting that the Electoral College will vote on Monday and Biden will have more than enough electors to secure the presidency, Wallace began his Fox News Sunday interview with Scalise by asking him if he'll stop contesting the election after that key moment.
"Well, Chris, look, there's been a lot of contesting of the election in multiple states," the Louisiana congressman deflected.
Watch the video above, via Fox News.