Jake Tapper: Trump 'Did Us a Favor' by Exposing Republicans Who Sought to Disenfranchise Voters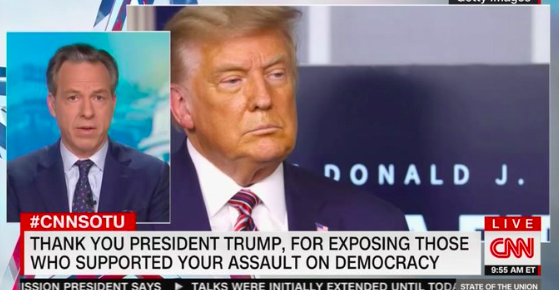 CNN State of the Union host Jake Tapper on Sunday ended his show with a message of thanks to President Trump regarding the lawsuit he supported that sought to nullify the votes in four states won by President-elect Joe Biden.
"18 state attorneys general, some U.S. Senators, and a majority of the House Republican caucus — 126 members — supported it. President Trump did us a favor by exposing these elected officials," Tapper said of the lawsuit, which he called "undemocratic" and a "joke."
The Supreme Court on Friday said it would not hear the case.
"They are definitionally people who signed on to a desperate desire to subvert the will of the American people, to disenfranchise voters in Georgia, Pennsylvania, Wisconsin, and Michigan based on lies and conspiracy theories, putting an immoral and corrupt power grab above democracy," Tapper continued. "President Trump did us a favor by revealing to us that those individuals are who they are."
Tapper called out House Minority Leader Kevin McCarthy (R-CA) and House Minority Whip Steve Scalise (R-LA), the latter of whom continued to defend the lawsuit and refused to acknowledge Biden as president-elect Sunday on Fox News.
📜Here it is: All 126 Republican House members and 18 GOP state AGs who backed @KenPaxtonTX and @realDonaldTrump in asking the Supreme Court to:

⚫️ Disenfranchise millions of voters,

⚫️ Overturn Biden's election win, and

⚫️ Effectively install Trump in the WH for a 2nd term pic.twitter.com/Tjy1vmSEWq

— John Kruzel (@johnkruzel) December 12, 2020
"The hope that most Republicans in the House were better than this–that's been destroyed," Tapper said.
Watch the video above, via CNN.