Prominent Medical Journal Urges Americans Not to Vote for Trump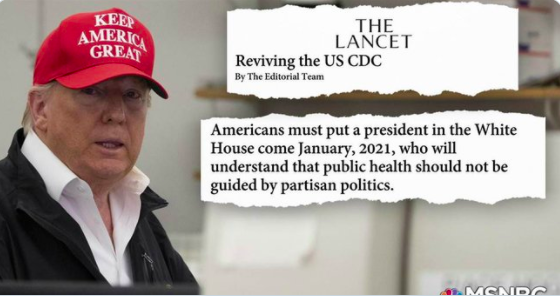 A British medical journal says in a newly published editorial that Americans should vote for a president who supports public health experts and who understands that public health "should not be guided by partisan politics."
The Lancet states that the Trump administration has made an "inconsistent and incoherent national response" to the pandemic, which has left the U.S. with the world's highest death doll of at least 86,000.
The medical journal The Lancet publishes editorial condemning the Trump admin.'s coronavirus efforts:

"Americans must put a president in the White House come January, 2021, who will understand that public health should not be guided by partisan politics."https://t.co/wTrzLssXKk

— MSNBC (@MSNBC) May 16, 2020
"The Administration is obsessed with magic bullets — vaccines, new medicines, or a hope that the virus will simply disappear," the journal states. "But only a steadfast reliance on basic public health principles, like test, trace, and isolate, will see the emergency brought to an end, and this requires an effective national public health agency."
The journal also faults the administration for hamstringing the Centers for Disease Control. The federal agency, it writes, was once "the gold standard for global disease detection and control," but has lately become an "ineffective and nominal adviser" on the country's pandemic countermeasures.