Sanders Predicts 'A Vast Majority' of His Supporters Will Vote for Biden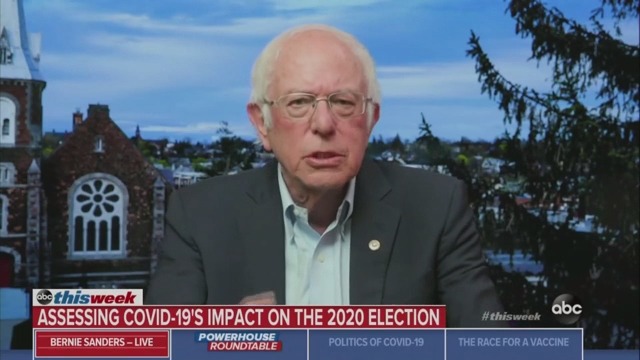 Sen. Bernie Sanders was asked Sunday whether he believes Joe Biden, the Democratic Party's presumptive nominee, will have any difficulty attracting Sanders' supporters come November.
"I think at the end of the day, the vast majority of the people who voted for me, who supported me, will understand and do understand that Donald Trump is the most dangerous president in the modern history of this country," Sanders said on ABC's This Week. "He's a pathological liar. He's a racist, sexist, et cetera. At the end of day, I think they'll be voting for Joe."
But Sanders said that the Biden campaign also has work to do when it comes to progressive causes he has championed, like raising the minimum wage, relieving student loan debt and not having one's healthcare be dependent on employment.
"I think Joe and his staff understand that," Sanders continued. "I think they're going to reach out to our supporters and come up with an agenda that speaks to the needs of working families, of young families, of minority communities."
A 2016 election survey found that about 1 in 10 voters who supported Sanders in that year's primaries ended up voting for Trump, meaning the number of Sanders-Trump voters in Michigan, Wisconsin and Pennsylvania surpassed Trump's margin of victory in each of those key states.
Watch the video above, via ABC.