James Carville Suggests Bernie Sanders Should Drop Out Following Biden's Super Tuesday Success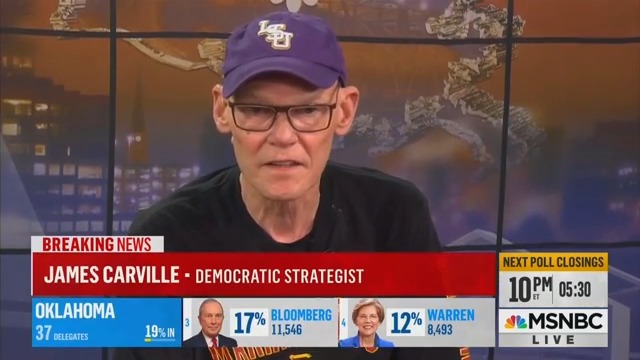 As former Vice President Joe Biden racked up win after win in Super Tuesday's 14 Democratic primaries, longtime Democratic strategist James Carville popped up on MSNBC to essentially call for Sen. Bernie Sanders (I-VT) to drop out, claiming the "most important constituencies in our party are just not for you."
Carville, who last month made headlines when he said he was "scared to death" over the democratic socialist Vermont senator gaining the nomination, actually saluted Rep. James Clyburn (D-SC) for "literally" saving the Democratic Party by endorsing Biden before the South Carolina primary.
"You might see Democrats starting to ask Sanders, 'Look, let's don't drag this thing out any more than we have to,'" the former Clinton advisor noted. "People want to get on to the general election. They want to get on to defeating Donald Trump."
Carville would go on to say that if Democrats are going to beat Trump, "we can't be lollygagging around a lot longer" and "it seems the party is making a decision."
Read the rest of the piece at The Daily Beast.
Watch the clip above, via MSNBC.