Trump Deletes Tweet After He Calls Bloomberg a 'Total Racist' for Supporting Stop and Frisk
President Donald Trump has deleted a tweet about former New York Mayor Michael Bloomberg where he called the billionaire a racist. Trump was responding to a recording from 2015 where Bloomberg defended the controversial Stop and Frisk policy.
"WOW, BLOOMBERG IS A TOTAL RACIST!" Trump tweeted in all caps before deleting the tweet. He has not reposted it, possibly because he backed the policy himself. In addition, Trump has been called a racist himself for both his rhetoric and his policies.
Though deleted, the tweet was captured in a screenshot before the President could get rid of it.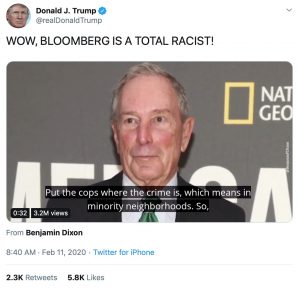 Bloomberg, however, is in hot water for remarks about deploying police to minority neighborhoods because that's where the crime is.
"So you want to spend the money, put a lot of cops on the street, put those cops where the crime is, which means minority neighborhoods," Bloomberg said.
"Because we put all the cops in the minority neighborhoods. Yes, that's true. Why did we do it? Because that's where all the crime is. And the first thing you can do for people is to stop them getting killed," the Democratic candidate said.