Donald Trump Jr., Lindsey Graham and Mark Meadows Wear Matching Trump Outfits on Fox News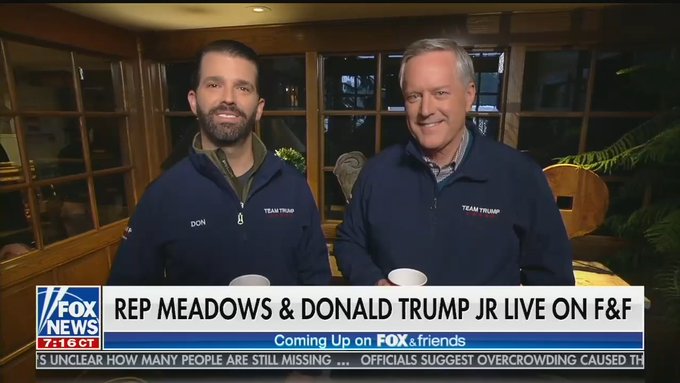 Three of President Donald Trump's most loyal supporters appeared on Fox News on Monday wearing matching Trump outfits. His son, Donald Trump Jr. joined Republican Congressman Mark Meadows, who were wearing the same style jacket, while Senator Lindsey Graham also appeared on the network in the same merch.
Eagle-eyed media monitors were quick to point out the apparent co-ordination.
Mark Meadows and Donald Trump Jr wearing matching outfits on Fox & Friends pic.twitter.com/8QTT2Fq9aF

— Bobby Lewis (@revrrlewis) February 11, 2020
The jackets say 'Team Trump' and are no doubt part of the President's extensive merchandise line. The appearance of three people wearing the same thing does not seem coincidental.
Get a load of these guys wearing matching Trump merch on Fox News this morning pic.twitter.com/5hd1nVeDes

— Aaron Rupar (@atrupar) February 11, 2020
Criticism of this apparent free advertising wasn't long in coming.
Rep. Mark Meadows Models Trump Merch On State TV – https://t.co/Z4Cc6uwOvl pic.twitter.com/7bOkeg0OCn

— JoeMyGod (@JoeMyGod) February 11, 2020
It's a small consolation from the ongoing nightmare but the way Lindsey Graham has humiliated himself — a self-clowning unequalled in American politics since William Jennings Bryan became a real estate huckster — is quite entertaining. https://t.co/IgRSotb6wO

— Jeet Heer (@HeerJeet) February 11, 2020
It's likely we'll see more like this as the campaign unfolds and Trump tries to sell as much merch as possible, both to fund the campaign and boost his ego.