Chris Wallace Challenges Alan Dershowitz Over Flip-Flop on Whether Crime Necessary for Impeachment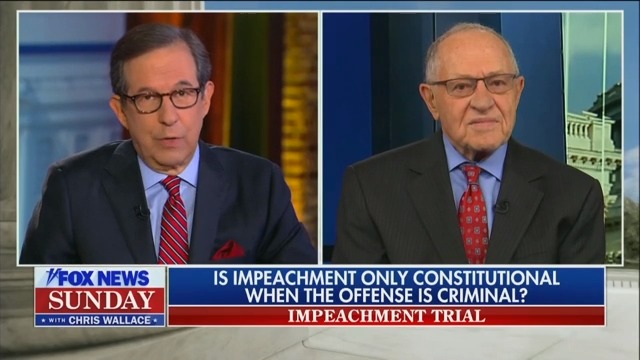 Fox News anchor Chris Wallace took Alan Dershowitz, a member of President Donald Trump's impeachment defense team, to task over his shifting positions on impeachment over the years, noting on Sunday that the famed attorney previously claimed a president didn't have to commit a crime to be impeached.
"Let me ask about this, because when you argue that case, that what didn't have to be a crime in the Clinton impeachment, I find it very hard to believe that you had not studied the only other presidential impeachment in history, which was the [Andrew] Johnson impeachment," Wallace said. "So suddenly discovering that the key issue is what Justice Curtis argued in 1860, you're too good a lawyer not to have studied that back in 1998."
Dershowitz attempted to argue that crime wasn't an issue in the Clinton impeachment because the then-president was charged with a crime, prompting the Fox host to point out that "we just put the sound bite up where you said it doesn't have to be a crime."
Read the rest of the piece at The Daily Beast.
Watch the clip above, via Fox.