Republicans 'Have Made Their Deal with the Devil,' Longtime ABC Anchor Says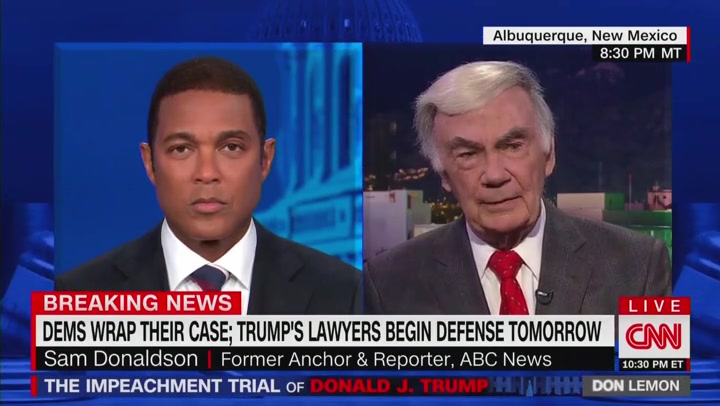 Former ABC News anchor Sam Donaldson joined CNN Tonight Friday evening after House impeachment managers wrapped up their case against President Trump concerning the first article of impeachment: abuse of power.
Donaldson, who covered two impeachment processes during his more than 40 years with the network, said he expects Republicans to remain loyal to their party in the coming weeks.
"Republicans are in lock step; they have made their deal with the devil," Donaldson said when asked if it's likely that four of them will split off and join Democrats to vote for witnesses.
"They can't let loose of him because of their careers, they think. Think of their reputations, though, in history. What do they gain? Their reelection maybe in a state that's red? No — they lose their reputation as people with sense, sovereignty and loyalty of the Constitution."
In the early stages of the trial, eleven amendments proposed by Senate Minority Leader Chuck Schumer (D-NY) calling for subpoenas of documents and witnesses all failed to pass. Republican Sens. Susan Collins of Maine and Lamar Alexander of Tennessee have indicated that they would be open to voting whether to hear from witnesses after both sides have presented their case and after senators have been able to ask questions.
Republicans like Sen. Marsha Blackburn and Sen. Lindsey Graham, however, have decided to present themselves as clear defenders of the president.
"I think some [Republicans], certainly in their heart of hearts, would not be with Donald J. Trump, but he's there," Donaldson added. "We talk about the loss of bipartisanship. No; we lost honor, the honor of people that know better."
Watch the video above, via CNN.