Defense Sec. Mark Esper: 'I Didn't See' Specific Evidence of Imminent Attacks on Four Embassies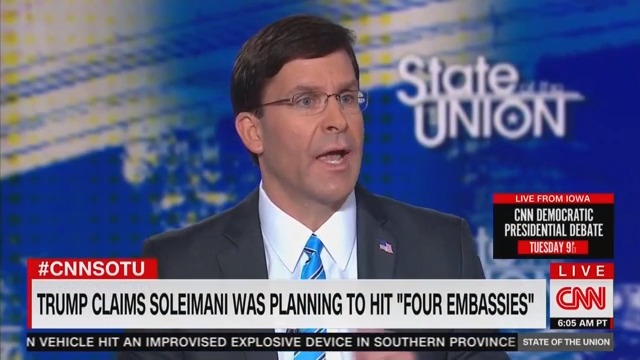 Secretary of Defense Mark Esper on Sunday attempted to walk back and clarify President Donald Trump's claim that a top Iranian general killed by a U.S. airstrike was "actively planning" imminent attacks on four American embassies, saying that he "didn't see" specific intelligence to support that assertion.
During an appearance on CBS's Face the Nation on Sunday, Esper noted that while the president pointed out that he "believed" the attacks on multiple embassies was imminent, there wasn't actually any direct evidence to support his assertion.
NEWS: @EsperDod tells @margbrennan he "didn't see" specific evidence showing Iran planned to strike 4 U.S. embassies, despite @realDonaldTrump saying an attack at multiple embassies was "imminent." Watch more of Esper's interview on @FacetheNation today. pic.twitter.com/1Nud8waok1

— Face The Nation (@FaceTheNation) January 12, 2020
"The president said that he believed that there probably and could have been attacks against additional embassies," Esper told host Margaret Brennan. "I shared that view. I know other members of the national security team shared that view."
"'Probably and could have been,' that is—that sounds more like an assessment that a specific tangible threat with a decisive piece of intelligence," Brennan reacted.
Read the rest of the piece at The Daily Beast.
Watch the clip above, via CBS News.