'The Most Incompetent Bunch of Liars': Former Army Col. Slams Trump Admin over Iran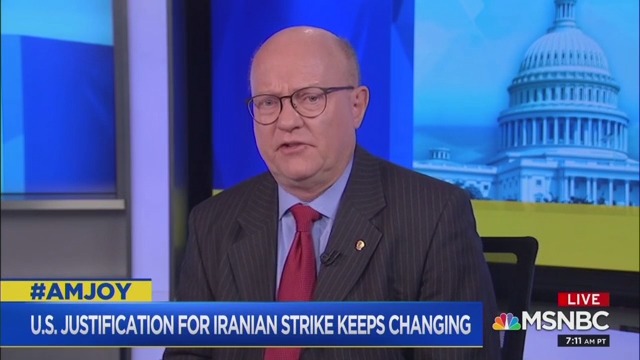 The former chief of staff to Secretary of State Colin Powell criticized the Trump administration for its luckluster efforts to explain the circumstances regarding the killing of Iranian Gen. Qasem Soleimani.
Lawrence Wilkerson, a retired Army colonel, said on MSNBC's AM Joy that he could not believe the administration's claim that attacks orchestrated by Soleimani were "imminent," especially since few specifics were offered.
"This group is the most incompetent bunch of liars I have ever encountered," Wilkerson said. "I served an administration that had skillful liars in it like [Vice President Dick] Cheney and so forth, but this administration gets caught every day in its lies and in the aftermath of those lies."
Wilkerson continued: "The statement [from Pompeo] that [Soleimani] was planning attacks on U.S. forces around the world, I would dare say that probably applies to every commander in Iran and probably half the commanders in Iraq now."
After a briefing to lawmakers earlier this week by administration officials, Sen. Mike Lee (R-UT) said it was "probably the worst briefing I have seen, at least on a military issue, in the nine years I've served in the United States Senate."
Lee, Wilkerson said, "was absolutely right" about how "insulting and demeaning" it was for lawmakers to be apparently discouraged from discussing the merits of further military involvement against Iran.
Watch the video above, via MSNBC.