Biden to Trump: 'Hush Up' Until You Release Your Tax Returns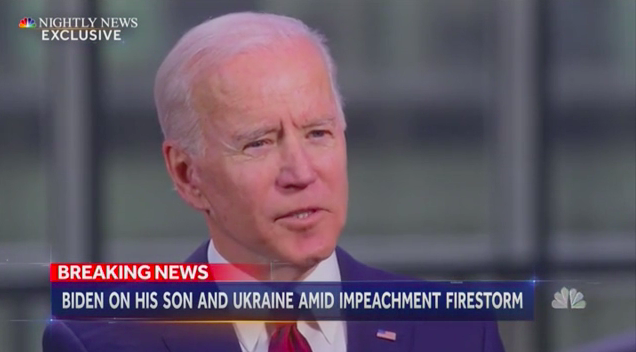 Democratic presidential candidate Joe Biden chastised President Trump over his failure to produce his tax returns, challenging him to "step up" before making accusations about him or his son.
The former vice president, in an interview with NBC's Lester Holt that aired Tuesday evening, suggested that it was hypocritical of Trump to accuse him of corruption when he has gone to court to prevent his tax returns from going public.
"No matter who the nominee is, do you think the president is not going to lie about them? The only thing I've noticed is the more he's attacked me, the more I've gone up in the polls," Biden said. "And by the way, I've released 21 years of my tax returns. Mr. President, release one of yours. You talk about corruption; why won't you release any of your tax returns? Stop talking about corruption, Mr. President, unless you release your tax returns. Hush up; step up."
The Supreme Court last month agreed to take on three cases involving the president's finances. In one such case, Trump has sought to prevent his accounting firm, Mazars USA, from turning over his tax returns to the Manhattan district attorney. In another case, the Second Circuit Court of Appeals ruled that Deutsche Bank and Capital One must comply with a congressional subpoena for his financial records.
While a presidential candidate, Trump repeatedly promised to release his tax returns, claiming they were still being audited. Just prior to the election, though, he claimed that "there is nothing to learn from them." Since his inauguration, he has sued frequently to keep them under wraps, arguing that his office shields him from criminal investigations.
The Supreme Court is scheduled to hear arguments in March, with a decision coming as early as June.
Watch the video above, via NBC News.