Pam Bondi Tells 'Fox & Friends': What Trump Has Done for the Rule of Law Is 'Truly Remarkable'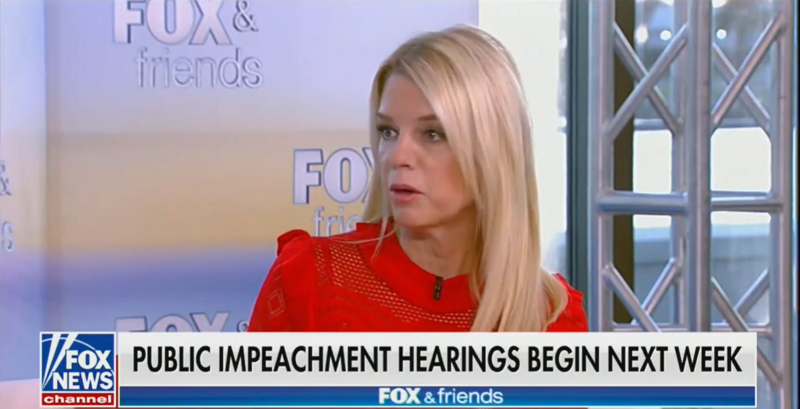 Former Florida attorney general Pam Bondi lavished praise on the Trump administration during an appearance on Fox & Friends on Thursday. The Republican will be heading to the White House to assist with communications and other matters amid the ongoing impeachment inquiry.
Fox & Friends co-host Brian Kilmeade asked if acting White House chief of staff could have avoided admitting there was a quid pro quo with Ukraine if he'd spoken to a lawyer first. Bondi was non-committal but praised those working for the President.
"Mick is wonderful, Pat [Cipollone] in White House counsel and Jared Kushner's one of the smartest human beings I've ever met," Bondi said.
"The President, frankly, is his best spokesperson. This is just helping with the huge team. And doing a lot of other special projects. If it works out, I'm gonna be thrilled."
Later, Bondi praised Trump for appointing judges, while Kilmeade misleadingly said that President Barack Obama had left many vacancies on the courts. This is largely due to Senate Republicans refusal to seat Obama's judicial nominees.
"Starting at the top with Justice Gorsuch and Brett Kavanaugh. I mean, who we all know, personally know and think is an amazing human being. So many good things," Bondi said.
"And as an attorney for almost 30 years and looking at what the President has done for our world and the rule of law is truly remarkable."
Bondi failed to note the serious allegations of wrongdoing against Trump with regard to Ukrainian military aid.
Watch the video above, via Fox News.