Kellyanne Conway: 'I Don't Know' If There Was a Quid Pro Quo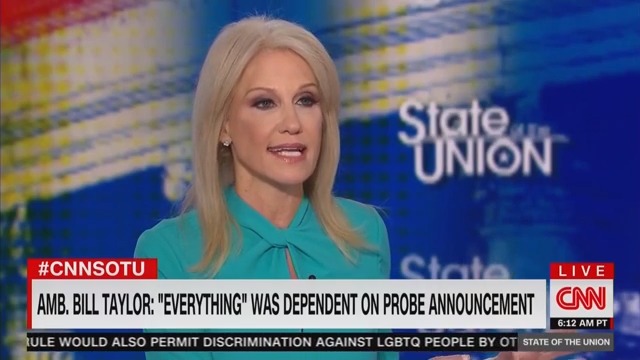 During a typically contentious and lengthy CNN interview on Sunday morning, White House counselor Kellyanne Conway insisted that she didn't know whether President Donald Trump held up military aid because he wanted Ukraine to investigate former Vice President Joe Biden and his son Hunter.
"Was the administration holding up military aid in exchange for this investigation?" Bash pressed Conway.
"They have the aid," the Trump adviser said. "They're using the aid."
Bash continued to grill Conway on whether Trump held up aid unless Ukraine investigated the Bidens, something the Trump official couldn't definitively deny.
"I don't know," Conway replied. "But I know they've got their aid."
Read the rest of the piece at The Daily Beast.
Watch the clip above, via CNN.