Trump Sides With Fox News' Mark Levin Over His Colleague, 'Lying Sh*t Head' Ed Henry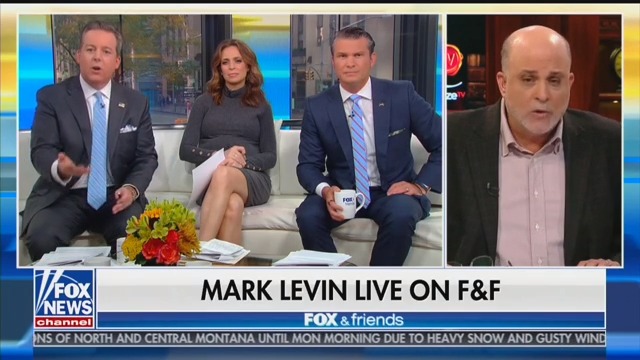 President Donald Trump spent much of his Sunday morning retweeting random Twitter accounts that praised conservative firebrand Mark Levin for losing it on air when Fox News reporter Ed Henry asked Levin if he "okay" with Trump asking the Ukrainian government for dirt on Democratic presidential candidate Joe Biden.
During Sunday's broadcast of Trump's favorite morning show Fox & Friends, Levin—who also hosts a weekend program on the conservative-leaning network—ferociously defended the president's actions when it came to pressing Ukraine to investigate Biden and his family. This prompted Henry, serving as a Fox & Friends co-host, to pose a question to his Fox colleague.
"The President of the United States, I'm not saying it's illegal — are you okay with a president asking his counterpart — this is a simple yes or no — to dig up dirt on former vice president Joe Biden and his son?" Henry wondered. "Are you okay with that?"
Read the rest of the piece at The Daily Beast.
Watch the clip above, via Fox News.