Trump on Ukraine Call: 'There Was Pressure Put on With Respect to Joe Biden'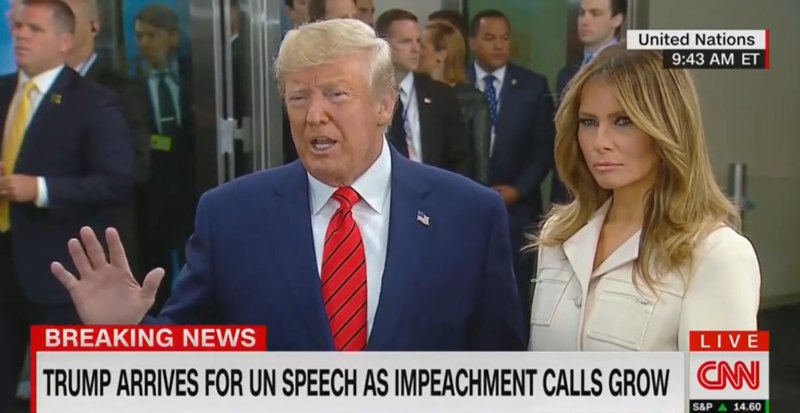 President Donald Trump has admitted that he put pressure on Ukraine's government to investigate former Vice President Joe Biden. Speaking to reporters before his speech at the United Nations General Assembly, the President openly admitted that he spoke the Ukrainian president about the matter.
"I think it's ridiculous. It's a witch hunt," Trump said. "I'm leading in the polls. They have no idea how they stop me. The only way they can try is through impeachment. This has never happened to a president before. There's never been a thing like this before. It's nonsense."
"When you see the call, when you see the readout of the call which I assume you'll see at some point, you'll understand. That call was perfect. It couldn't have been nicer. Even the Ukrainian government put out a statement that that was a perfect call."
"There was no pressure put on them whatsoever," Trump said. "But there was pressure put on with respect to Joe Biden. What Joe Biden did for his son, that's something they should be looking at."
Trump admitted on Monday that he discussed withholding aid from Ukraine because of 'corruption' connected to Joe Biden.
"If you don't talk about corruption, why would you give money to a country that you think is corrupt? One of the reasons the new president got elected is he was going to stop corruption," Trump told reporters yesterday.
Trump's personal lawyer Rudy Giuliani earlier admitted that he had urged Ukraine to investigate Biden.
The President's comments today are a serious escalation of the scandal surrounding his phone calls to Ukraine's president. He has not openly confessed to pressuring a foreign government to investigate a political rival. His statement may move the needle on impeachment.
Watch the video above, via CNN.