Fox News Host Apparently Doesn't Understand the Concept of Art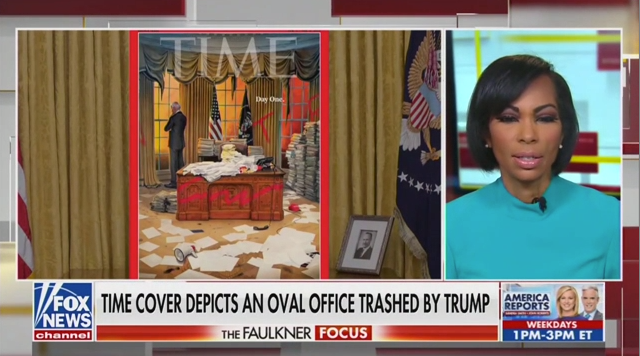 Fox News anchor Harris Faulkner on Friday struggled to make sense of TIME magazine's first cover of the Biden administration.
The cover, headlined "Day One," shows the Oval Office "trashed by [Biden's] predecessor" while the current president "looks out at the nation on fire," as Faulkner put it. She then claimed there is a double standard because if the cover depicted a Republican that way, "mainstream media would be on fire about it."
Faulkner then exclaimed about the cover, "That's not real! That picture isn't real! I thought we were a nation who cared about the facts."
Faulkner, who seemingly didn't understand that the cover art is figurative in that Donald Trump neither spray painted the Resolute desk nor left papers strewn across the carpet, couldn't let it go: "Let's see if others in the mainstream media have the gumption to call out the fact that that's just a complete lie," she wailed.
Watch the video above, via Fox News.