'Yet Again In America': Shep Smith Soberly Explains How Often Mass Shootings Occur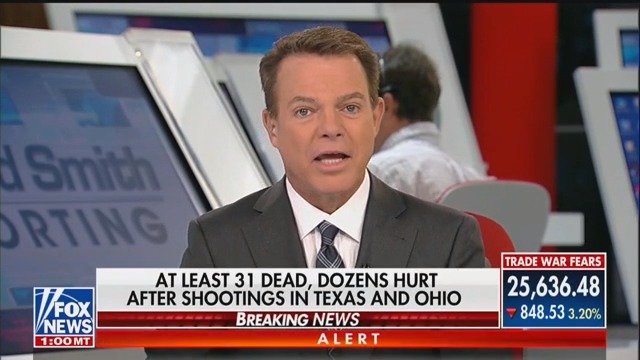 Fox News anchor Shepard Smith began his Monday afternoon news broadcast by cynically observing that all the calls for action and "thoughts and prayers" in the wake of two horrific mass shootings over the weekend will be tossed out "soon yet again" after another similar tragedy occurs in the near future.
"Yet again in America," Smith soberly noted. "Yet again in America, innocent families are slumped to their knees in grief living an unimaginable weight, to retrieve the bullet-riddled bodies of their children. Yet again in America, we search our souls for answers, beg our leaders for solutions that thus far have not come."
"Now, gun laws," he said. "Regulations. Background checks. Soft targets. Body armor. Death penalty. Mental health. Time for action. I promise. Thoughts and prayers. We hear you. We heard you last time. And the time before that. We will likely do it all soon yet again in America."
Read the rest of the piece at The Daily Beast.
Watch the clip above, via Fox News.