Trump Asks America to Pray For the Victims in 'Toledo' While Addressing Dayton and El Paso Shootings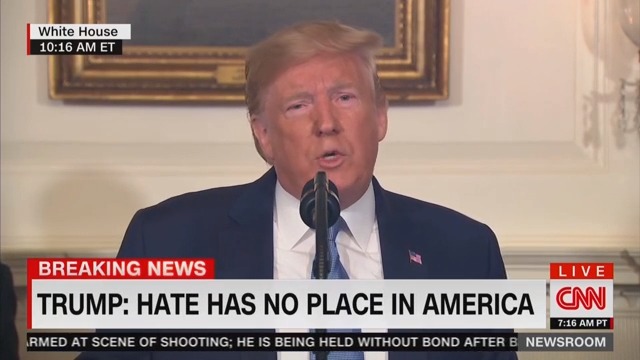 Nearly two days after El Paso and Dayton were rocked by horrific mass shootings that left nearly 30 dead and dozens injured, President Trump finally publicly addressed the nation — and got one of the cities wrong at the end of his prepared remarks.
After mildly condemning white supremacy and racism while referencing the El Paso shooter's manifesto, the president went on to place a lion's share of the blame on violent video games and mental health issues. He then wrapped up his remarks by calling on America to pray for the victims.
"If we are able to pass great legislation after all of these years, we will ensure that those who were attacked will not have died in vain," he said. "May God bless the memory of those who perished in Toledo and may God protect them. May God protect all of those from Texas to Ohio, may God bless the victims and their families, may God bless America."
At the end of his remarks today, Trump says "may God bless the memory of those who perished in *TOLEDO* and may God protect them"

Seriously, you had ONE JOB pic.twitter.com/1ZC7EdVfr8

— Justin Baragona (@justinbaragona) August 5, 2019
Toledo, of course, is over 150 miles to the north of Dayton.
Presumably, as the remarks were loaded on a TelePrompTer, someone from the White House staff mistakenly wrote the wrong city and the president read it off. Seriously, you had one job…