FBI Director Wray Says "No Evidence" There Was Illegal Surveillance of Trump Campaign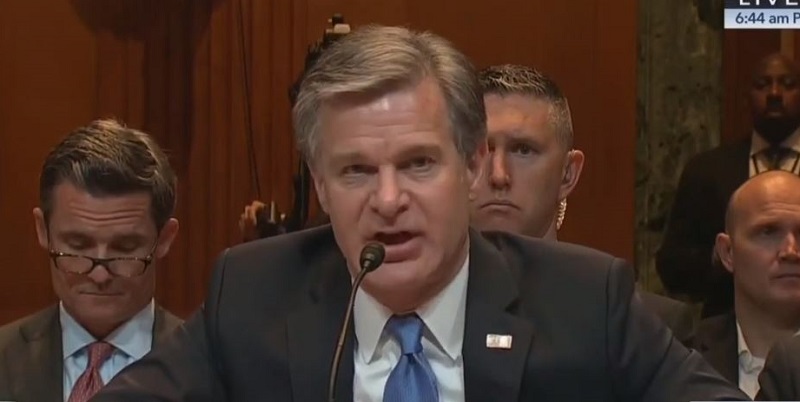 FBI Director Christopher Wray told a Senate subcommittee Tuesday morning that, contrary to what President Trump might regularly scream on his Twitter feed, the Bureau did not illegally spy on his 2016 campaign.
Sen. Jeanne Shaheen (D-NH) started off her questioning of Wray by noting her concern that Attorney General Bill Barr used the word "spying" at a recent hearing to describe surveillance of Trump associates that the FBI undertook as part of its investigation into contacts between campaign members and possible Russian intelligence operatives. Barr was heavily criticized for using that word, which Shaheen noted is "a loaded word."
Wray responded, "That's not the term I would use." He went on to say that different people use different "colloquial phrases" to describe surveillance undertaken as part of an investigation.
Shaheen then asked whether FBI agents had properly secured warrants that allowed them to engage in their surveillance of Trump's campaign. Wray noted that there had been "a number of relevant warrants that were secured" during the investigation.
That set up Shaeen: "Do you believe, Director Wray, that the FBI and its agents spied into the 2016 presidential campaign operation?"
Wray filibustered a bit, which led Shaheen to ask directly, "Do you have any evidence that any illegal surveillance into the campaigns or individuals associated with the campaigns by the FBI occurred?"
Wray responded, "I don't think I personally have any evidence of that sort."
Expect an angry tweet from the White House later.
Watch Wray and Shaheen's exchange up top, via C-SPAN.