Marijuana Alarmist Alex Berenson Appears On Fox & Friends Again: His Book Has Been Widely Debunked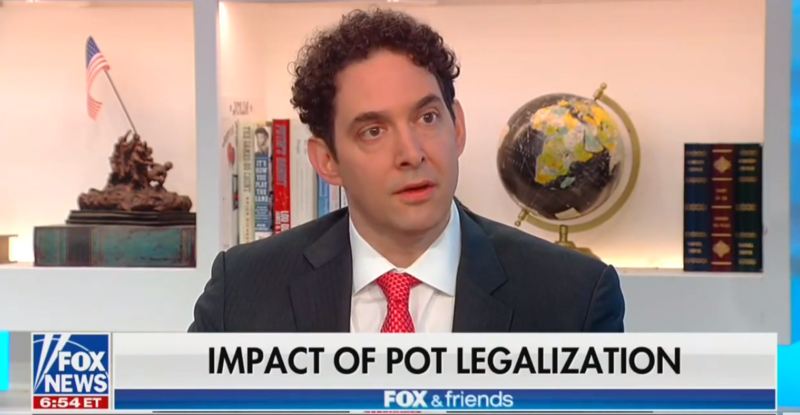 Fox & Friends hosted former New York Times journalist Alex Berenson Tuesday morning to promote his book about the harms of marijuana. Berenson has appeared on Fox News' flagship morning show before to discuss the subject. The only problem is that Berenson's work has been widely criticized and debunked by experts.
Berenson's book, Tell Your Children: The Truth About Marijuana claims to prove the damage legalizing the drug has done and will continue to do. However, it was widely criticized upon its release for getting the science wrong.
Berenson's claims have been dismissed as 'flawed pop science' by experts on the subject, which Berenson certainly is not. The former journalist wrote thrillers for a living before releasing his book, which he continues to claim is an accurate picture the effects of marijuana.
On Fox & Friends Tuesday, Berenson attacked researchers and accused them of deliberately minimizing the harm the drug has done. This could be seen as a direct challenge to those who've called Berenson an alarmist. He has not backtracked on his claims. After discussing his theory that increased driving deaths are a result of legalized pot, Berenson went after those who disagree.
"There is a bunch of researchers out there who are ignoring the top line data," Berenson said. "So the top line data for driving , the top line data for crime is in the book it shows — well, not driving but crime I go into great detail in the book, deaths are way up and there is a bunch of academic researcher whose are just ignoring this."
Even the Fox News hosts were not entirely convinced by Berenson, asking pointed questions about his claims. Steve Doocy wanted to know why researchers would minimize the impact of marijuana.
"I think, unfortunately, there is an ideological bent towards legalization and it's caused people to ignore the data," Berenson said. "There's a guy at the University of Oregon named Ben Hanson who has done a couple of studies and instead of looking at the broadest data set he sort of pulls data from here and there. And by the way, sometimes even that shows an increase, as it does with driving data. Instead of acknowledging that he says well, if we look at these confidence intervals, we can still say it's similar. He is basically not acknowledging the top line numbers."
Berenson also claimed that financial donations were involved in organizations like the Brookings Institution supporting legalization. Though the segment was short, Berenson's appearances on Fox News help to boost his debunked ideas about crime, deaths and marijuana.
Watch the video above, via Fox News.