Fox News' Primetime Lineup Hasn't Mentioned Steve King Once Since White Supremacy Remarks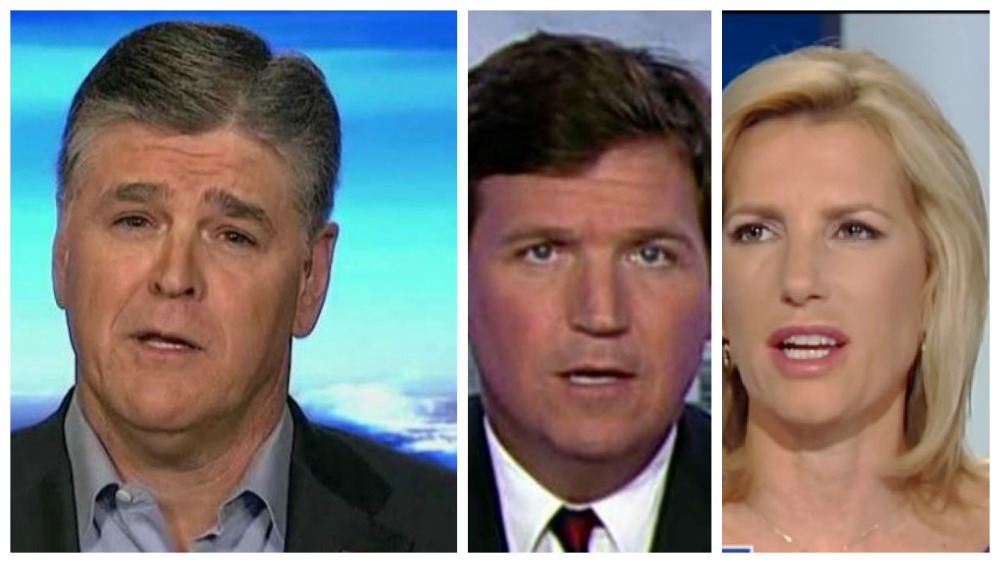 Following Republican Congressman Steve King's remarks to the New York Times in which he sympathized with white nationalist and white supremacists, the weekday primetime Fox News lineup has completely ignored the controversy, even after House Republicans decided to strip the far-right lawmaker of all of his committee assignments Monday evening.
In an NYT article about King's extremist immigration views and how his push for a border wall years ago inspired President Trump's policies and rhetoric, the longtime Iowa congressman asked how white nationalism and white supremacy had become offensive. While King has had a long history of spewing racist comments and embracing white nationalist and alt-right figures, this instance finally resulted in widespread backlash and condemnation from GOP politicians.
Yet, while Republicans have begun to take action against King over his racism and some have even called for his resignation, Fox News has, by and large, ignored the story. And nowhere is this more apparent than during the network's highly-rated three-hour primetime block featuring Tucker Carlson, Laura Ingraham, and Sean Hannity.
Since the Thursday publication of the Times' piece, none of these programs have mentioned King's name once on air, according to a transcript search via media monitoring service TVEyes. This isn't a situation where they didn't devote any on-air segments to the topic. No. They have just completely ignored King altogether, even while Washington has devoted much of its attention to how to react to the congressman's remarks and King has claimed that his words were taken out of context.
The programs' decision to turn a blind eye to King was extremely egregious on Monday night considering that just before Carlson went on air at 8 PM ET, GOP leadership took away King's assignments to the Judiciary and Agriculture Committees. Despite that, the host didn't provide his viewers with the update, even via a "Fox News Alert" from the network's news division. He did, however, find time to discuss the possibility of California banning paper receipts with frequent guest Mark Steyn.
Tucker Carlson did no segments tonight on Steve King pic.twitter.com/MVF7wRcHxc

— Contemptor (@TheContemptor) January 15, 2019
The same occurred on Hannity and Ingraham, with both hosts spending much of their airtime railing media and liberal bias over the recent revelation that the FBI opened a counterintelligence investigation into President Trump over his ties to Russia after he fired FBI Director James Comey.
Sean Hannity did no segments tonight on Steve King pic.twitter.com/ukqt6turiV

— Contemptor (@TheContemptor) January 15, 2019
Laura Ingraham did no segments tonight on Steve King pic.twitter.com/VVNuf7rTKd

— Contemptor (@TheContemptor) January 15, 2019
All three hosts have featured King on their programs in the past for sympathetic interviews. Notably, in a March 2017 appearance on Tucker Carlson Tonight, Carlson told King that he was "probably right" to parrot far-right nationalist Geert Wilders by saying you "cannot rebuild your civilization with somebody else's babies."
The first time Fox News covered the GOP stripping King of his committee assignments was at 11:10 PM ET on Fox News @ Night, with host Shannon Bream delivering a segment on it. She would also discuss it briefly with former GOP congressman and current Fox News contributor Jason Chaffetz later in the show. Meanwhile, the following morning on Fox & Friends, the King news got 30 seconds of airtime while the curvy couch hosts devoted 24 times more coverage to criticizing a new razor ad because they felt it was "corporate virtue signaling" over toxic masculinity.
In the immediate 24 hours after King's comment went public, cable and broadcast news only provided scant coverage, especially in comparison to the amount of airtime they devoted to Rep. Rashida Tlaib's profane call to impeach Trump. In the days since, however, cable newsers CNN and MSNBC have covered the story more and more. Fox News, meanwhile, has continued to virtually ignore it.
Per TVEyes, King's name has only been mentioned on Fox News 26 times since Thursday morning, with some of those instances overnight repeats of Bream's program. (Discounting those repeats, the number goes down to 20.) Comparatively, CNN has mentioned King 152 times, counting repeated programming, and MSNBC has brought up King 86 times, again counting repeats. Also, all six CNN/MSNBC weekday primetime programs have provided at least some coverage of King's remarks.
Speaking to reporters on Monday morning, the president was asked to give his thoughts on King's racist remarks. Trump responded that he hadn't "been following it." Considering the amount of Fox News programming POTUS consumes on a daily basis, and how he relies on the network for his information, this is absolutely plausible that he knew nothing of it by Monday.