Fox News Practically Ignores Steve King's Open Embrace Of White Nationalism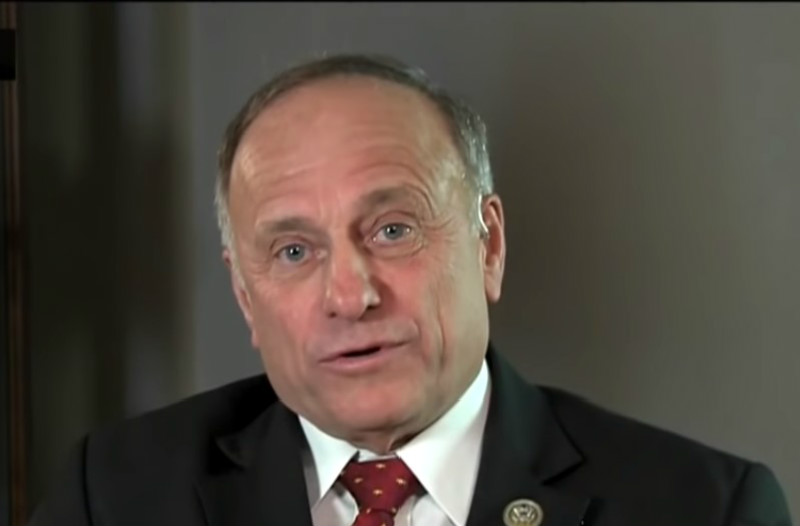 While Fox News spent days rehashing freshman Democratic Congresswoman Rashida Tlaib's profane promise to progressives that Democrats will "impeach the motherfucker," a veteran lawmaker's confirmation of his embrace of white nationalism has barely registered with the network more than 24 hours after his remarks went public.
In an interview with the New York Times that was published Thursday morning, Rep. Steve King (R-IA) insisted he isn't a racist and that he supported immigrants who come to America "legally and fully assimilate because what matters more than race is 'the culture of America' based on values brought to the United States by whites from Europe."
The ultra-conservative immigration hardliner, who has a lengthy history of making racially offensive statements and expressing support for neo-Nazis and white supremacists, then told the Times the following:
"White nationalist, white supremacist, Western civilization — how did that language become offensive?" Mr. King said. "Why did I sit in classes teaching me about the merits of our history and our civilization?"
King's open embrace of white nationalism has created a firestorm of controversy. Republicans and conservatives — even those who had been allies of King's in the past — have released statements of condemnation, called for King to be censured by Congress, and pushed for the Iowa congressman to be primaried in his next election. GOP members of Congress, who had largely been reluctant to call out King's extremism and bigotry in the past, have joined in chastising their colleague, with Sen. Tim Scott (R-SC) writing an op-ed that explained that Republicans are accused of being racist because they tend to be silent on matters like this.
Conservative-leaning Fox News, meanwhile, is doing its best to prove Scott's point. By the time of publication, Fox had only mentioned King's name on air twice. The first instance was during Thursday's broadcast of Special Report with Bret Baier, which focused largely on King's defense of his comments. The second time was on Friday's America's Newsroom in which the hosts briefly mentioned King's remarks in the context of Dwayne 'The Rock' Johnson slamming "snowflakes."
[UPDATE: Shortly after this post went up, Fox News' Neil Cavuto brought on Scott to discuss his op-ed and King's remarks.]
The network, however, was tripping all over itself to cover Tlaib's remarks last week. According to a transcript search via media monitoring service TVEyes, Fox News mentioned Tlaib's name at least 26 times in the two days after she said a swear. There were also 88 mentions of "impeach" and 114 of "impeachment," though it should be noted that all of those instances may not have been related to Tlaib's remarks.
To be fair, there has been a LOT of news in Washington this week, what with the government shutdown over President Donald Trump's demand for a border wall. And in the immediate aftermath of King's comments, both CNN and MSNBC provided scant coverage of them. However, by Friday, with Scott's op-ed gaining attention and King taking to the House floor to defend himself and decry white supremacy, the two channels began discussing it more and more.
As of publication, CNN had mentioned King 19 times and MSNBC 14. Those numbers are sure to continue to rise as much of the coverage came in the early afternoon hours on Friday and the primetime hosts of those two networks will likely give ample airtime to the subject.
So, will Fox continue to turn a deaf ear to this major political story? Will its primetime hosts, who have given King a fairly sympathetic platform in the past (especially Tucker Carlson), ignore it or give it short shrift? I guess we can only wait and see.