Trump Brings Poster Of 'Game Of Thrones' Tweet To First Cabinet Meeting Of 2019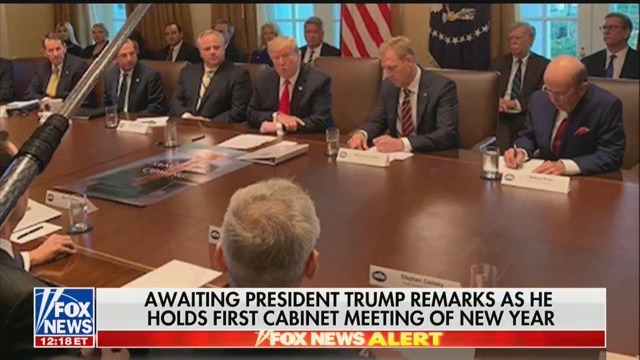 Remember back in November when President Donald Trump tweeted out a Game of Thrones-style meme that read "Sanctions Are Coming"?
— Donald J. Trump (@realDonaldTrump) November 2, 2018
Well, it would appear he loved the meme so much that he had a poster printed out and he brought it to his first Cabinet meeting of 2019.
A 'Game of Thrones'-style poster about sanctions sits in front of President Trump as he holds a Cabinet meeting at the White House on Wednesday. pic.twitter.com/0q7d8yVHMg

— MSNBC (@MSNBC) January 2, 2019
The president sent out that tweet exactly two months ago to announce that he was reimposing American sanctions on Iran after he pulled out the United States out of the Iran Nuclear Deal. So we guess this was a way to celebrate the anniversary of one of his favorite tweets?
Anyway, the fact that the leader of the free world used his first Cabinet meeting of the new year as a battleground for the Great Boomer Meme Wars resulted in a decent amount of face-palming on Twitter.
Is that… a poster-sized print out of the dumb Game of Thrones meme he tweeted? pic.twitter.com/Rklce3BGE6

— Parker Molloy (@ParkerMolloy) January 2, 2019
printing out a meme of himself for a cabinet meeting is the most boomer online shit we're ever going to see

— Andrew Lawrence (@ndrew_lawrence) January 2, 2019
I heard that there was a Game of Thrones parody poster on the desk during Trump's meeting, so I assumed it was about the wall that occupies like 1/3 of the plot of that book/show, and… no, it's about sanctions!

— Dave Weigel (@daveweigel) January 2, 2019
Not sure what's crazier: That Trump is using a stupid Game of Thrones reference to threaten sanctions, or that he's obviously had that poster since at LEAST October (photo via AP) pic.twitter.com/NZaRoHw0NQ

— Josh K. Elliott (@joshkelliott) January 2, 2019
The C team? (Acting interior sec?) david bernhardt and acting secdef shanahan seated on either side of trump at rump cabinet meeting; bolton, stephen miller, kushner get the back wall. Bizarre spoof game of thrones sanctions poster down middle of table. https://t.co/vkaPdG3NA2

— Laura Rozen (@lrozen) January 2, 2019
oh….. oh no https://t.co/uOeQ6z7M7X

— Jared Holt (@jaredlholt) January 2, 2019
Meanwhile, as Trump is utilizing today's Cabinet meeting to promote his Twitter memes, all of the departures from his cabinet means that the roughly one-third of the participants in the meeting are currently in "acting" capacity.