Fox & Friends: Americans Deserve To Go To Bed Without Worrying 'About Being Killed By An Illegal Immigrant'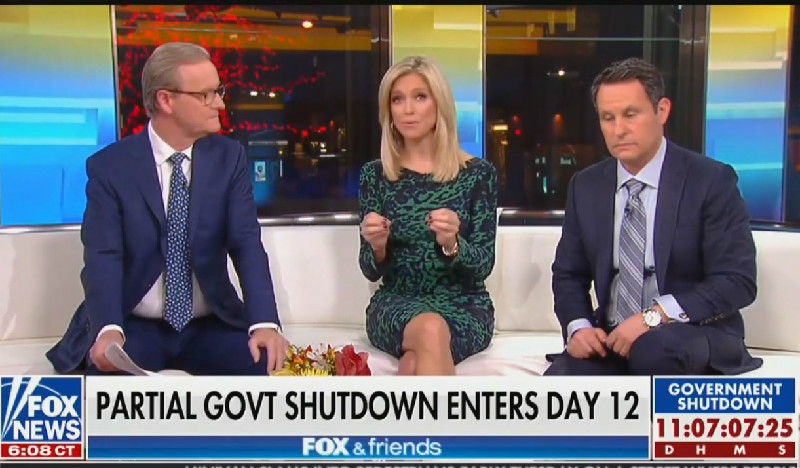 On the second day of the new year, Fox & Friends picked up right where it left off in 2018 — fearmongering about scary murderous Latino immigrants.
As we entered the 11th day of a partial government shutdown due to President Donald Trump's demand that Congress include border wall funding in a spending bill, the curvy couch sitters pointed out that while it may be inconvenient for certain services and locations to be closed it was all because Trump wants Americans to got to be without worrying about illegal immigrants murdering them.
After co-host Brian Kilmeade noted that some asylum-seeking migrants have "bad intentions," he went on to discuss how the inconvenience of the shutdown may "ramp up the pain and if that will improve the process for negotiation."
Fellow host Ainsley Earhardt then took the baton and ran with it, agreeing that "it is an inconvenience" before parroting Trump's extremist (and patently false) rhetoric on immigration.
"But the president is saying most of the people are good people, but there are some bad apples in the group," she said. "And even though it is an inconvenience, he's saying that your safety, and your security as an American — he said that you deserve to be able to go to sleep at night and not have to worry about being killed by an illegal immigrant."
Earhardt continued, "And we've seen that happen. We've seen — there's so many moms and dads that we've interviewed that say 'yes, it's very rare that this is gonna happen. But it can happen and it happened to my child.' And the president is saying 'I want to prevent other families from going through that loss.'"
This feels like the kind of thing Trump will either tweet out or repeat verbatim the next time he speaks to the press, keeping the Trump-Fox Feedback Loop intact.
Watch the clip above, via Fox News.