Cuomo And Lemon Trash Tucker's 'Hateful Speech': 'Is He Really Talking About Human Beings That Way?'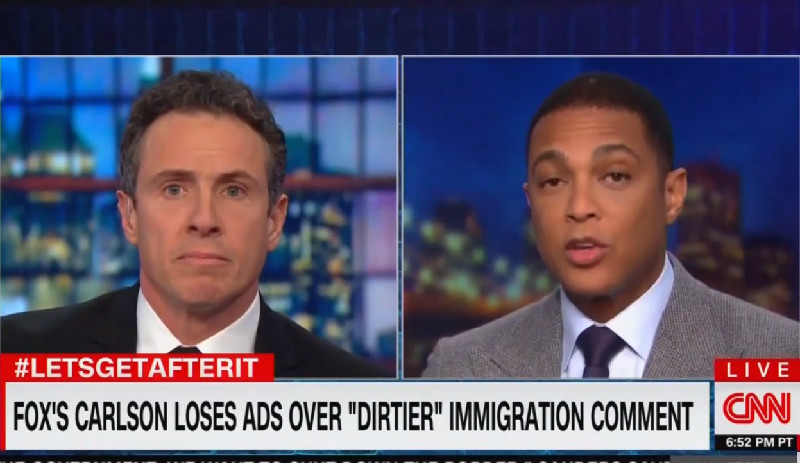 CNN anchors Chris Cuomo and Don Lemon blasted Fox News host Tucker Carlson Tuesday night over his comments on immigration that have resulted in the conservative media star losing at least 15 advertisers, calling it "hateful speech" while wondering aloud how he could talk about humans that way.
Following a Thursday night segment in which he claimed immigration was making the United States "poorer and dirtier," companies began pulling their ads from Carlson's show after progressive activists began asking the program's corporate sponsors if they supported Carlson's rhetoric. After the Fox News host doubled down on his remarks Monday night and declared that he wouldn't be "intimidated," the floodgates opened and roughly a dozen advertisers fleed in short notice.
Cuomo opened up the segment by mentioning the ad boycott and playing a clip of Tucker's remarks, prompting him to question what Carlson meant by saying "dirtier."
"Is he really talking about human beings that way?" Cuomo asked. "I don't know ordinarily play hateful speech on the show, but it's important for people to see what someone's trying to pass off as news."
"Here's how I feel about it," Lemon responded. "We don't usually like to criticize colleagues. But if you turn on fox any night, it is the CNN, MSNBC criticism channel. They almost always lead with something that we're doing that they hate, and they hate because we're actually talking about real news and the Mueller investigation and what's actually going on."
Lemon went on to say he usually doesn't like to criticize other news personalities because "people in glass house should throw bricks" and he could easily be on the receiving end of widespread criticism, but Carlson is different because he uses his "platform comprehensively" and on a "general basis every day" to go after immigrants.
"Tucker Carlson uses his platform to demonize immigrants almost on a nightly basis," Lemon added. "To demonize this network almost on a nightly basis, to spread false information, misinformation, to spread the president's lies, to cover the president's back, to carry his water on a nightly basis. So you be the judge of how you feel about what's happening with him and his advertisers."
After Lemon ripped Carlson some more over his comments, calling them "completely false," Cuomo jumped back in to note that he doesn't have any feelings of collegiality towards Carlson, despite Lemon pointing out that Carlson once worked at CNN.
"I didn't work with him," he declared. "I don't consider him my colleague. I think the Trump trio are in a different business than the one that I'm in. They have different tactics. They have different reasons for doing it, and they have different goals of what they're trying to do. So I don't consider him a colleague. It doesn't mean he doesn't have the right to say it, but so do advertisers have the right to respond to what he says. Same thing for us."
Cuomo finished the segment by saying that he thinks it's worse if Tucker doesn't believe his jingoism but does it for effect because "he knows it's effective." He added that he can "guarantee you in person he's not going to be that loud and proud" about his positions.
Watch the clip above, via CNN.