At Least 15 Advertisers Flee After Tucker Carlson Doubles Down On 'Poorer And Dirtier' Immigration Remarks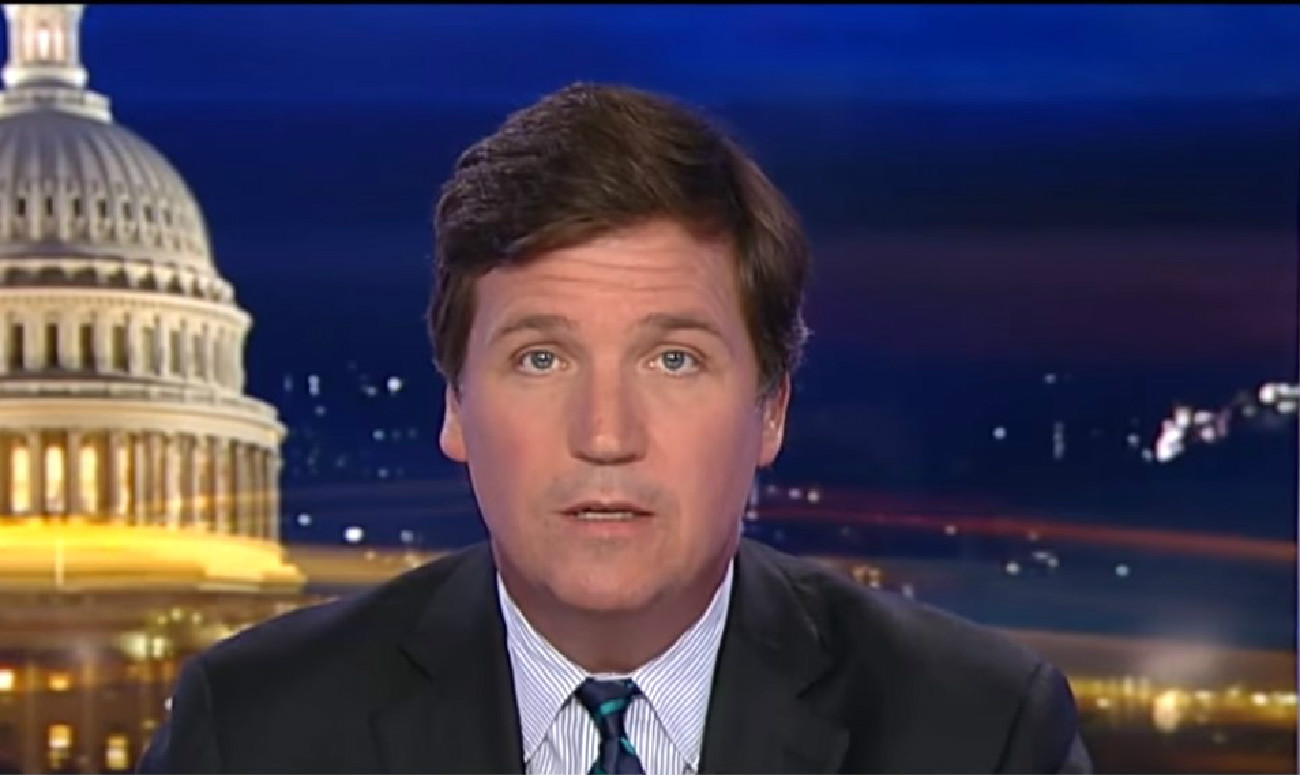 It appears that the floodgates have opened following Fox News host Tucker Carlson's defense of his remarks that immigration is making the United States "poorer and dirtier and more divided."
With a handful of advertisers having already announced that they were pulling their ads or not planning on running commercials during Tucker Carlson Tonight in the future, numerous other companies bolted following Monday night's broadcast which featured Carlson doubling down on his remarks.
Just to recap, progressive activists and groups began contacting Carlson's advertisers after he asserted on his Thursday night broadcast that immigrants from Central America and Mexico are not educated enough to benefit the country and that they bring trash with them. He also stated that some of the migrants seeking refugee status are "cynical shakedown artists who have been watching too much CNN."
Media Matters senior researcher Andrew Lawrence noticed that the segment ended with a "brought to you by" bumper from life insurance firm Pacific Life. This resulted in activist Jordan Uhl and others contacting the company about its advertising relationship with Tucker Carlson Tonight. Pacific Life announced on Monday afternoon that it was suspending its advertising with Carlson as they "re-evaluate our relationship with his program."
Prior to Monday's broadcast, job site Indeed noted that it had stopped advertising with Tucker a month ago and had no plans to run commercials on his program in the future. Exercise equipment manufacturer Bowflex confirmed that it had pulled its ads and had "no other association or affiliation with Mr. Carlson." SmileDirectClub said they were "actively working with our media buyers to confirm that SmileDirectClub is no longer running our ads around any political opinion shows."
On his Tuesday night program, Carlson struck a defiant tone, stating that he would not be "intimidated" by liberal "enforcers" and that his program would "say what's true until the last day." He would then devote several minutes to defending his "poorer and dirtier" remarks while showing random photos of trash and litter.
After standing by his comments and further expanding on them, at least 15 more advertisers have dropped Tucker Carlson's show as of early Tuesday afternoon. Check out the list below:
NerdWallet — The credit card website announced it had "pulled its advertising and will be reevaluating any ongoing advertising on this program." (A spokesperson stated that the company ditched the program after Thursday's monologue.)
Ancestry.com — The genealogy website told Hollywood Reporter that it is "not advertising at this time.
Voya Financial — The retirement and financial company tweeted out that they have "no scheduled spots" on the program, adding that they're "committed to diversity, inclusion and equality – and respect for all individuals."
Minted — The online marketplace said on Monday night that they "do not agree with Mr. Carlson's comments and his opinions are not consistent with the values we hold at Minted."
Jaguar Land Rover — The automobile maker let THR know that it has "rarely advertised on the show and does not have any plans for it going forward."
Zenni Optical — The eyeglass manufacturer announced that they stopped advertising on Tucker's program "effective yesterday."
IHOP — The restaurant chain stated that they "will no longer be advertising on this show," adding that they "stand for welcoming folks from all backgrounds and beliefs into our restaurants and continually evaluate ad placements to ensure they align with our values."
ScotteVest — The clothing company stated that it had "instructed our media buyers to pull any future ads from that program."
Just For Men — The grooming company told HuffPost that "Just For Men has no further plans to advertise on Tucker Carlson's show. The brand is always considering ways to remain responsible, and this includes aligning with partners who share our brand values."
United Explorer credit card — The company told THR that is has stopped advertising with Tucker.
NEW – TD AMERITRADE won't be advertising in the future: "Once news broke about this issue, we instructed our media buying team to avoid the show in the future. This is a decision that we believe is in-line with the strong values of our organization, one of which is People Matter" pic.twitter.com/6U8AXp18Ia

— Jeremy Barr (@jeremymbarr) December 18, 2018
A comment from a spokesperson for GMC (@GMC): "We are monitoring the situation. We have no additional comment."

A spokesperson for Infiniti (@INFINITIUSA) says they will not be commenting. Earlier he told me: "We are currently looking into this matter" https://t.co/rtc1xJoyHX

— Jeremy Barr (@jeremymbarr) December 18, 2018
NEW – TAKEDA Pharmaceuticals, which makes Entyvio (a frequent Tucker Carlson advertiser), says: "We have pulled our advertising off of Tucker's show." https://t.co/rtc1xJoyHX

— Jeremy Barr (@jeremymbarr) December 18, 2018
NEW – SODASTREAM (@SodaStreamUSA, a major "Tucker Carlson Tonight" advertiser, is pulling out: "SodaStream has asked Fox to remove us from this time slot." https://t.co/rtc1xJoyHX pic.twitter.com/QwfruAyLev

— Jeremy Barr (@jeremymbarr) December 19, 2018
NEW – ROBITUSSIN (@Robitussin) is no longer advertising on Tucker Carlson's show. Pfizer spokesperson: "We are no longer advertising on the program."

— Jeremy Barr (@jeremymbarr) December 19, 2018
NEW – SAMSUNG, a major Tucker Carlson advertiser, says: "We do not have any advertising planned at this time, for this program." https://t.co/WgG8dqfgI2

— Jeremy Barr (@jeremymbarr) December 19, 2018
We will continue to update this list if and when additional advertisers and sponson drop Tucker Carlson Tonight.
While Carlson is currently dealing with a large loss of advertisers, there are a number of large companies and business that, as of now, have publicly stated that they will continue to run commercials on the Fox News show.
Insurance giant Farmers noted that it "invests in advertising across a broad range of networks and programs that reflect the diversity of opinions and viewpoints found across the nation" and that their decisions on advertising "should not be construed to be an endorsement of any kind as to a show's content or the individuals appearing on the show." Car manufacturer Mitsubishi said that their decision-making is based on "demographics and psychographics, not politics," adding that they will continue to monitor the situation.
Pharmaceutical company Bayer, which runs ads for Alka Seltzer Plus on Tucker, indicated that it would continue to advertise on the show but also noted they would evaluate their ads as they listen to consumer opinion. AstraZaneca and Sanofli also said they would monitor the situation while major Tucker advertiser John Deere unequivocally announed they are a Fox News advertiser and their commercials run across the network.
When reached for comment, a Fox News spokesperson referred Contemptor to the statement the network released last week following Pacific Life's re-evaluation and suspension:
"It is a shame that left wing advocacy groups, under the guise of being supposed 'media watchdogs' weaponize social media against companies in an effort to stifle free speech. We continue to stand by and work with our advertisers through these unfortunate and unnecessary distractions."
UPDATE: Fox News released a new statement on Tuesday afternoon regarding the ad boycott, invoking the protest outside Carlson's home last month and calling out Media Matters by name:
"We cannot and will not allow voices like Tucker Carlson to be censored by agenda-driven intimidation efforts from the likes of Moveon.org, Media Matters and Sleeping Giants.
Attempts were made last month to bully and terrorize Tucker and his family at their home. He is now once again being threatened via Twitter by far left activist groups with deeply political motives.
While we do not advocate boycotts, these same groups never target other broadcasters and operate under a grossly hypocritical double standard given their intolerance to all opposing points of view."
Fox News also confirmed that all advertisers that were pulling ads from Tucker's show were moving them to other shows on the network.