Fox News Equates Tucker Carlson Ad Boycott With Protest Outside His House: He's 'Once Again Being Threatened'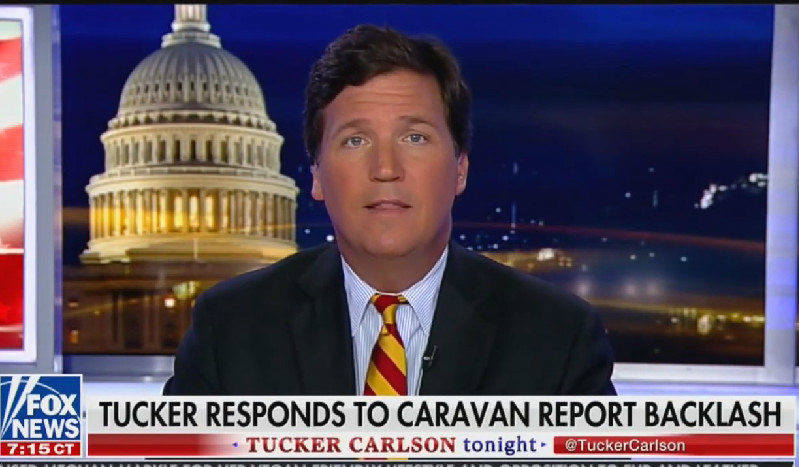 With more than a dozen companies now having pulled their ads from Tucker Carlson Tonight following Fox News host Tucker Carlson's saying Thursday night that immigration makes the United States "poorer and dirtier," the network released a new statement on Tuesday afternoon blasting several liberal organizations for spearheading the boycott while equating it to the protest outside Carlson's home last month.
"We cannot and will not allow voices like Tucker Carlson to be censored by agenda-driven intimidation efforts from the likes of Moveon.org, Media Matters and Sleeping Giants," read the official statement provided to Contemptor.
Progressive activist Jordan Uhl, who works for MoveOn.org, has taken the lead along with liberal group Sleeping Giants in contacting advertisers about their relationships with Tucker's program. Media Matters first spotlighted the inflammatory comments on Thursday night, with senior researcher Andrew Lawrence noting Pacific Life was the lead sponsor of the segment. (Pacific Life was the first to suspend their relationship with Tucker Carlson Tonight.)
Fox News also invoked the protest outside Carlson's Washington home last month by left-wing activists. That protest resulted in a police investigation as one of the protesters spraypainted an anarchy symbol on Carlson's driveway. It has also been reported that Fox News has boycotted Twitter due to the social media platform's slow response to removing tweets and videos that doxxed Carlson and others.
"Attempts were made last month to bully and terrorize Tucker and his family at their home," the network added in the statement. "He is now once again being threatened via Twitter by far left activist groups with deeply political motives."
Fox News concluded, "While we do not advocate boycotts, these same groups never target other broadcasters and operate under a grossly hypocritical double standard given their intolerance to all opposing points of view."
The network also confirmed to Contemptor that all advertisers that have pulled their ads from Tucker's show have moved those commercials to other Fox News shows and that no revenue has been lost by the network.
Uhl responded to the statement by calling it "desperate" and pushed back against Fox's complaint that the groups "never target other broadcasters," pointing out that "if Chris Hayes goes on TV tonight and says immigrants make America "poorer and dirtier" I fucking promise you I'll go after his advertisers just as hard."
Sleeping Giants, a progressive campaign group that has previously gone after Breitbart's advertisers, tweeted out that the statement was "deeply fucked up."
This is deeply fucked up.
1) Take responsibility for what you said about immigrants on air. We did not say it
2) Stop equating it with politics. Slagging of immigrants should not be a political issue.
3) Equating our tweeting with protesters at his home is borderline defamation. https://t.co/VRcwtKYRhs

— Sleeping Giants (@slpng_giants) December 18, 2018
They further noted that they "ask advertisers what they support" and the companies decide for themselves, adding that if Fox doesn't like advertisers leaving "perhaps you should look at yourselves first instead of blaming the exodus on a 'smear campaign'."
We ask advertisers what they support. They decide for themselves. It's right there on video. If you don't like advertisers leaving, perhaps you should look at yourselves first instead of blaming the exodus on a "smear campaign".

— Sleeping Giants (@slpng_giants) December 18, 2018
Media Matters president Angelo Carusone also tweeted out a response to Fox's statement. (Actually, several responses.)
1) Oh, now words matter? All the more reason for Tucker/Fox News to be more measured and a lot less bigoted then.

2) Wasn't Tucker caught lying about that incident? Regardless, totally irrelevant to issue at hand.

3) Be less terrible and bigoted and companies won't shun you. https://t.co/bkuUUfHDBy

— Angelo Carusone (@GoAngelo) December 18, 2018
The last time Fox News defended itself they said I was an anti-gay, anti-semite (my jewish husband found it amusing). New tactic is basically say we're terrorists.

Uh huh. I'm sure the advertisers seeing this will think, 'geez. Fox News sure has a handle on this. Buy more ads!'

— Angelo Carusone (@GoAngelo) December 18, 2018
For months, Fox News execs have spoken out, saying it gets harder and harder to sell ads on their show. But they blame a modest nonprofit and some activists…instead of the awful programming they're trying to sell but keeps stirring up shit.

— Angelo Carusone (@GoAngelo) December 18, 2018
For months, Fox News execs have spoken out, saying it gets harder and harder to sell ads on their show. But they blame a modest nonprofit and some activists…instead of the awful programming they're trying to sell but keeps stirring up shit.

— Angelo Carusone (@GoAngelo) December 18, 2018