This Thanksgiving, Paul Ryan Is Thankful For Deer Hunting Season And GOP Tax Reforms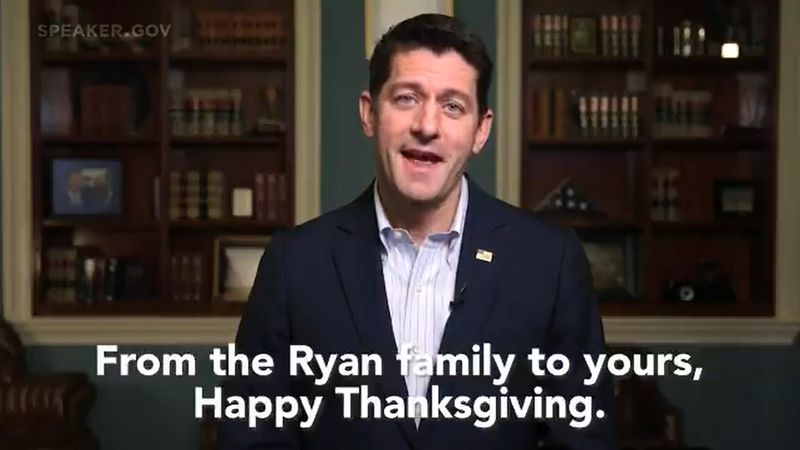 Speaker of the House Paul Ryan has released a new video explaining what he is thankful for this Thanksgiving. The Republican, who will soon have to give up the Speaker's gavel, gave a list of items he's thankful for, but made no mention of the recent midterm elections.
Ryan joked about his impending retirement, which was due regardless of how the GOP performed in the midterm elections, but chose not to discuss the elections or the supposed victory that President Donald Trump claimed as Republicans held the Senate.
In the video, set to chirpy music , Ryan joked about his upcoming retirement from politics: "I'm thankful that I will soon have a lot more time to spend with my family," Ryan said. "I don't know if they're so thankful for that, but I sure am."
"I'm thankful deer hunting season has started in Wisconsin," he said. Ryan is a well-known fan of hunting. Once he is no longer in the House of Representatives, who will presumably have more time to hunt deer in his home state.
"I'm thankful for a new tax code, one that is making such a positive difference in people's lives," Ryan said. "I'm thankful for the battle of ideas. You know, things can get a little off track but our system, our way of resolving our differences and figuring things out is still the best in the world and it will endure. I'm thankful for Republicans and Democrats and everyone in between."
Ryan's words will ring hollow for those who see the GOP tax reforms as a massive tax cut for the rich pushed through by a highly partisan and historically unpopular Congress.
Separately, Vice President Mike Pence called on people to 'remember those less fortunate' this Thanksgiving.
From my family to yours, #HappyThanksgiving! 🦃 pic.twitter.com/aSgyjpfY1W

— Paul Ryan (@SpeakerRyan) November 22, 2018