Marco Rubio And Alex Jones Go At It Outside Senate Hearing: 'Don't Touch Me Again, Man!'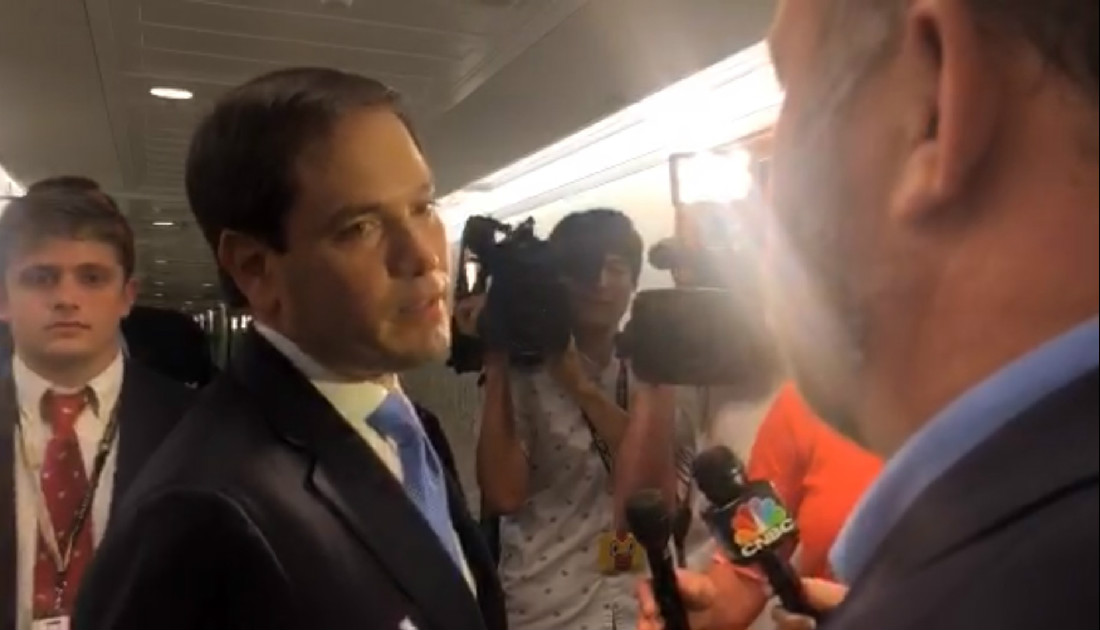 You just knew when conspiracy theorist and InfoWars founder Alex Jones showed up at today's Senate Intelligence Hearing on social media, things were going to get insane.
And that's just what happened.
After spending the beginning of the hearing ranting to the media and claiming he was there to face his accusers, the recently de-platformed Sandy Hook truther took aim at Sen. Marco Rubio (R-FL) during a brief recess.
Here's video of the Alex Jones – Rubio spat https://t.co/lGDaHAcZUc

— Will Sommer (@willsommer) September 5, 2018
As Rubio attempted to speak to reporters in the Senate hallway, Jones continually trolled and interrupted the Florida lawmaker. When Rubio was asked about the supposed issue of shadow banning, the far-right conspiracist pounced, saying Rubio didn't want to answer while claiming the "Democrats are doing what you say China does."
Turning to Jones, Rubio claimed he didn't know who he was (which seems highly unlikely) and that he doesn't "really go on your website," causing Jones to fire back and mock the Republican senator for not winning the 2016 GOP presidential primary.
"Marco Rubio the snake," Jones bellowed as he closed in on Rubio. "A little frat boy here."
"Don't touch me again, man," Rubio snarled after Jones mockingly patted him on the back. "I'm asking you not to touch me again."
"Oh, you want me arrested?" Jones tossed out, leading Rubio to warn the far-right provocateur "you're not going to get arrested — I'll take care of you myself."
This resulted in Jones calling Rubio a "little gangster thug" while accusing the Democrats of raping Republicans and InfoWars. Eventually, Rubio had enough and walked away, telling the press they could "talk to this clown."
Making sure to get the last word, Jones told Rubio to "go back to your bathhouse," obviously implying that Rubio is secretly homosexual and is trying to cover up a "gay past" — a conspiracy InfoWars helped push during the height of the 2016 Republican primary.