CNBC Reporter's Live Shot From Senate Hearing Marred By Alex Jones Ranting In Background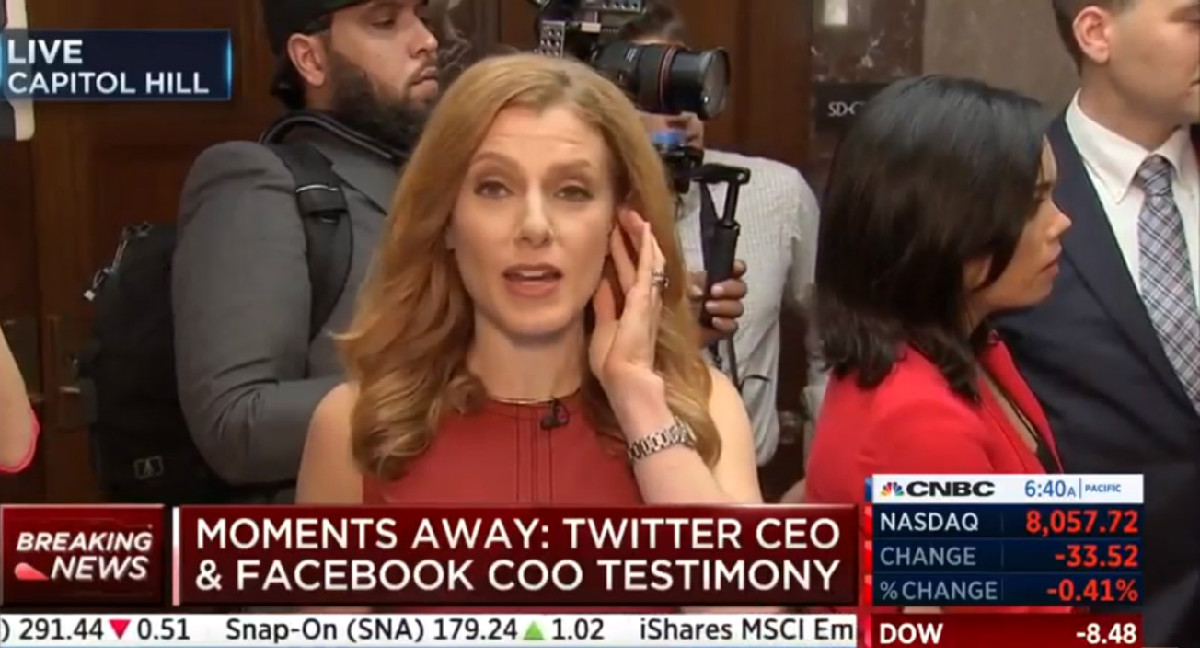 The heads of Facebook and Twitter appeared on Capitol Hill to testify before the Senate Intelligence Committee on how social media was used to push foreign influence campaigns, specifically in the 2016 presidential election. (Google elected to skip the hearing.) With the Big Tech platforms currently under fire by conservatives who accuse them of bias and so-called "shadow banning," far-right provocateurs showed up to make their presence felt and hopefully get some media face time.
Today's congressional hearings on social media could be wild. Alex Jones claims he'll be in the front row, Laura Loomer is in DC, and Chuck Johnson — banned from Twitter — says he has something planned.

— Will Sommer (@willsommer) September 5, 2018
And, of course, that included InfoWars founder and Sandy Hook truther Alex Jones — who was recently booted from YouTube, Facebook, and a whole host of other tech platforms (but notably NOT Twitter).
I just walked thru security at the Senate building with Alex Jones. pic.twitter.com/eDUUAxRB9E

— Ryan Mac (@RMac18) September 5, 2018
As the hearing was kicking off, Jones and another alt-lite celebrity — Pizzagate conspiracist Jack Posobiec, acting as a journalist — looked to gain attention from the gathered press pool. This resulted in Jones going off on one of his standard tirades as he claimed he was in Washington to face his accusers while calling the media "mercenaries of the globalists."
While Jones ranted and ranted, CNBC reporter Julia Boorstin attempted to do a live hit from the hearing, Unfortunately, viewers could barely hear or understand her as Jones' bellowing voice marred her dispatch, and Boorstin herself indicated she had a tough time hearing the control room as she pressed on her earpiece.
Following the short report, she tossed it over to another reporter, who noted that Boorstin "was trying to talk over Alex Jones, who continues to address reporters in that area of the Hill."
Watch the clip above, via CNBC.