Brett Kavanaugh Whiffs When Given Chance To Address Parkland Father Handshake Flap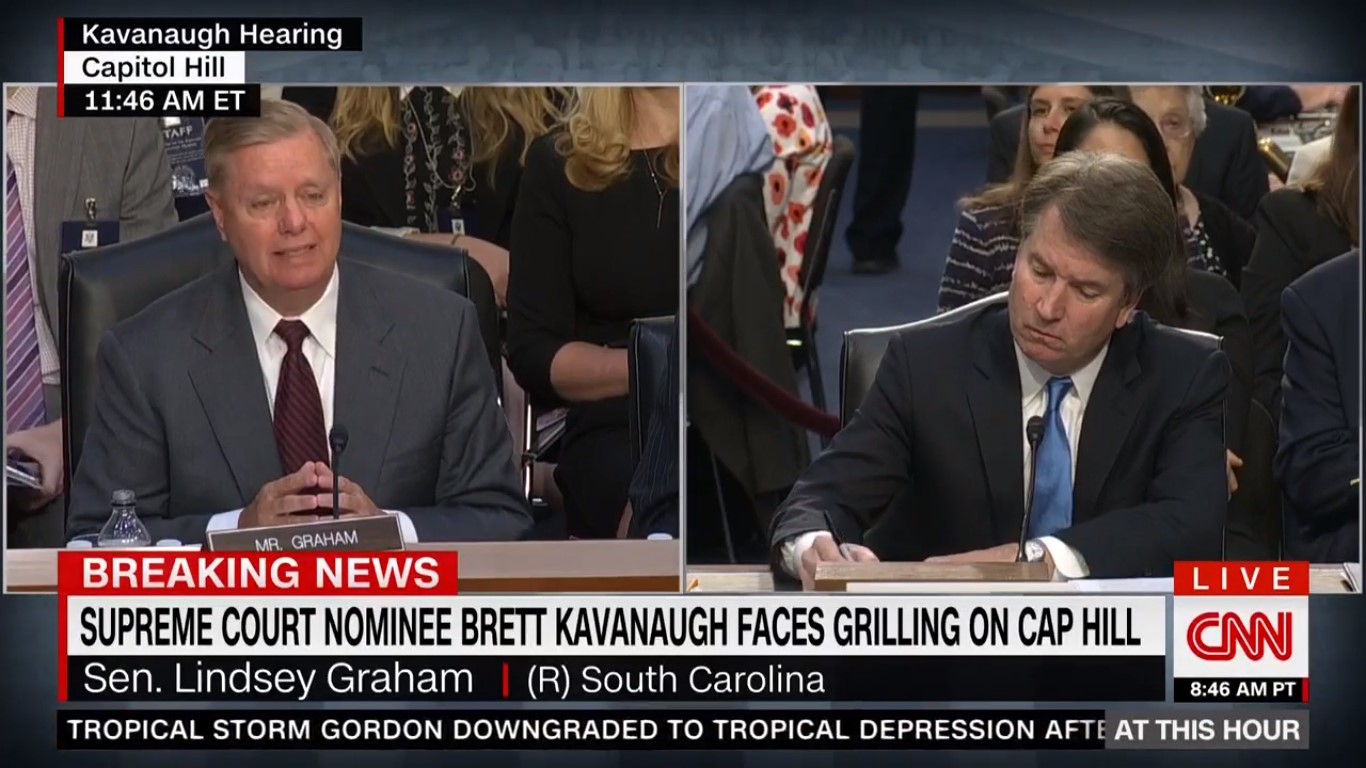 The first day of Brett Kavanaugh's Senate confirmation hearings were marked by numerous protests, Democrats attempting to get the hearing postponed, and Republicans complaining about all of it. It also featured a moment that sparked debate and gave us a remarkable image.
Fred Guttenberg, the father of Jamie Guttenberg who was killed in the shooting in Parkland, Fla., left, tries to shake hands with @realDonaldTrump's Supreme Court nom., Brett Kavanaugh, right, during a lunch break. Kavanaugh did not shake his hand. (AP Photo/Andrew Harnik) @ap pic.twitter.com/smcCGuLT6X

— Andrew Harnik (@andyharnik) September 4, 2018
Fred Guttenberg, father of a slain Parkland student, attempted to shake hands with Kavanaugh as the hearing headed to break. Guttenberg says that Kavanaugh snubbed the handshake as soon as he heard who he was. Meanwhile, the White House and other sources state that Kavanaugh's security intervened before they could shake hands because they were unaware of Guttenberg's identity, who was there as Sen. Dianne Feinstein's guest.
Considering that the situation was seen as an unforced error by Kavanaugh if he did purposely snub Guttenberg and an embarrassing viral moment regardless of the judge's intent, Sen. Lindsey Graham (R-SC) decided to throw Kavanaugh a bone during Wednesday's hearing. At the top of Graham's question-and-answer session, the Republican senator offered up this softball:
"I want to give you a chance to say some things to the people that have attended this hearing. I think there is a father of a Parkland student who was killed. I think there is a mother of a child who has got terrible health care problems. And there are many other people here with personal situations. What would you like to say to them, if anything, about your job as a Supreme Court justice?"
Despite the fact that it was absolutely teed up for him to respond to critics of his interaction with Guttenberg and deliver some personal words to the grieving father, Kavanaugh instead gave some generalized platitudes about his "awareness of the facts and an awareness of the real world consequences."
"I've not lived in a bubble," he added.
He would then go on to talk at length about homelessness, explaining that he understands "the situation of homeless people because I see them on a regular basis when I'm serving meals."
Watch the clip above, via CNN.