Rosenstein Reacts To GOP Impeachment Effort Against Him: DOJ 'Is Not Going To Be Extorted'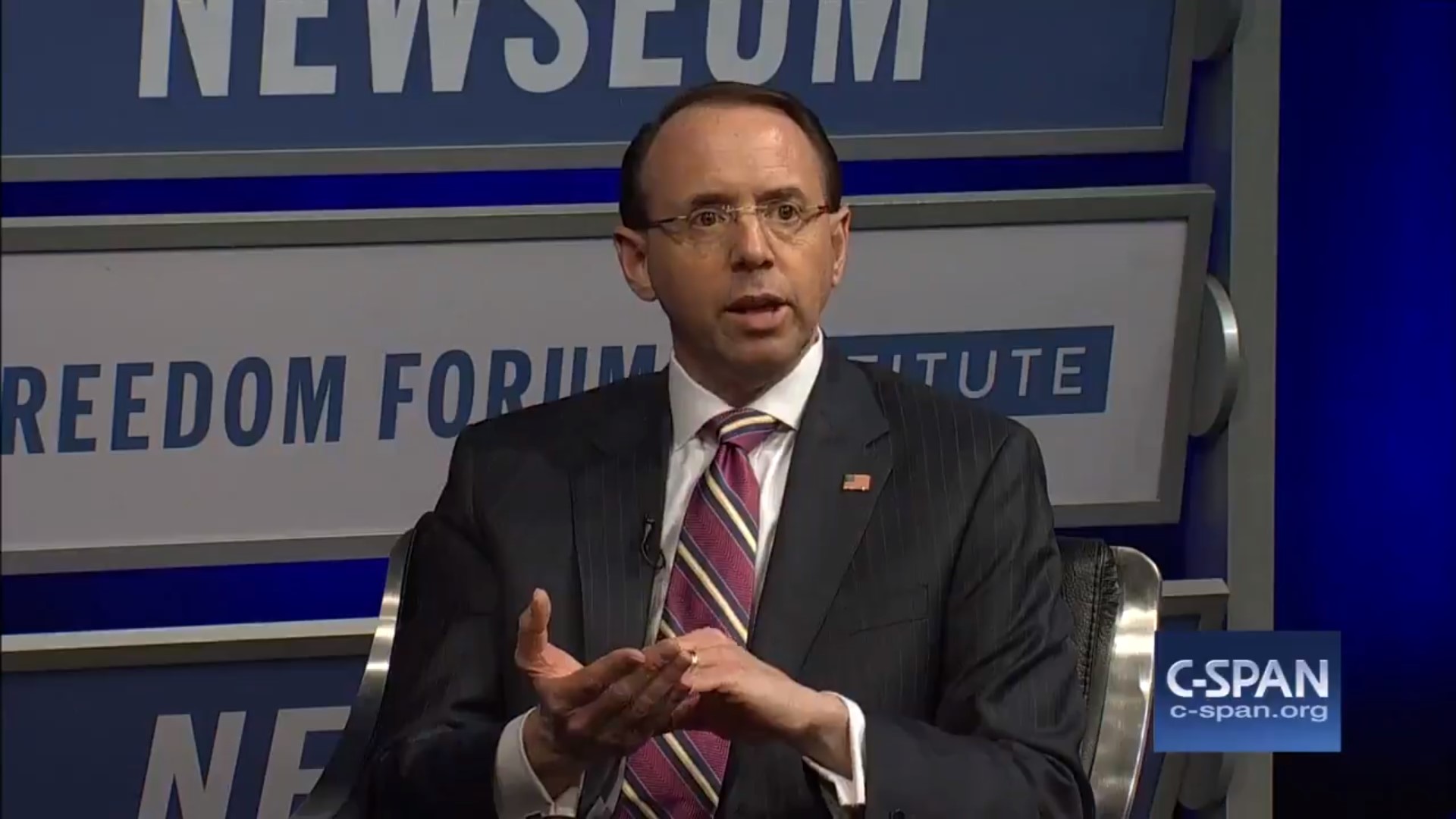 Over the past few months, Trump loyalists in the conservative media and the president's most ardent defenders on Capitol Hill have been banging the drum over Deputy Attorney General Rod Rosenstein when it comes to their anger over the ongoing special counsel probe into Russian election meddling. The constant saber-rattling over the Russia probe has resulted in members of the House Freedom Caucus drafting articles of impeachment against Rosenstein, which was leaked to the press on Tuesday.
Speaking at the Newseum on Tuesday, the deputy AG was asked about the House possibly considering impeachment. And Rosenstein not only brushed off the threats from conservative lawmakers, he seemed to reference the president himself as one of those who couldn't influence his decision-making regarding the investigation.
Regarding the articles of impeachment, Rosenstein laughed as he said "they can't even resist leaking their own drafts." Furthermore, he noted that he doesn't "have anything to say about docs like that that nobody has the courage to put their name on."
He continued, "I can tell you there have been people making threats privately and publicly against me, and I think they should understand by now that the Department of Justice is not going to be extorted. We're going to do what's required by the rule of law. And any kind of threats that anybody makes are not going to affect the way we do our job."
The president has targeted Rosenstein on Twitter recently and it has been reported that Trump has weighed firing his deputy AG following the FBI raid of Michael Cohen's office, seeing it as a way to place a check on Special Counsel Robert Mueller.
Meanwhile, the articles of impeachment draft comes on the heels of House Intelligence Committee chair Devin Nunes and other House GOP members tossing threats of contempt and impeachment Rosenstein's way over access to FBI documents. After de-escalating the tensions for a short bit, it looks like they are ramping them way up once more.
Watch the clip below.
CNN's @LauraAJarrett asked Rod Rosenstein about @freedomcaucus members considering his impeachment

"They can't even resist leaking their own drafts….I don't have anything to say about docs like that nobody has the courage to put their name on…DOJ is not going to be extorted" pic.twitter.com/EtW0eNxSFN

— Yashar Ali 🐘 (@yashar) May 1, 2018