Palin's Endorsement Backfires As 55% Of NH Voters Now Less Likely To Vote For Trump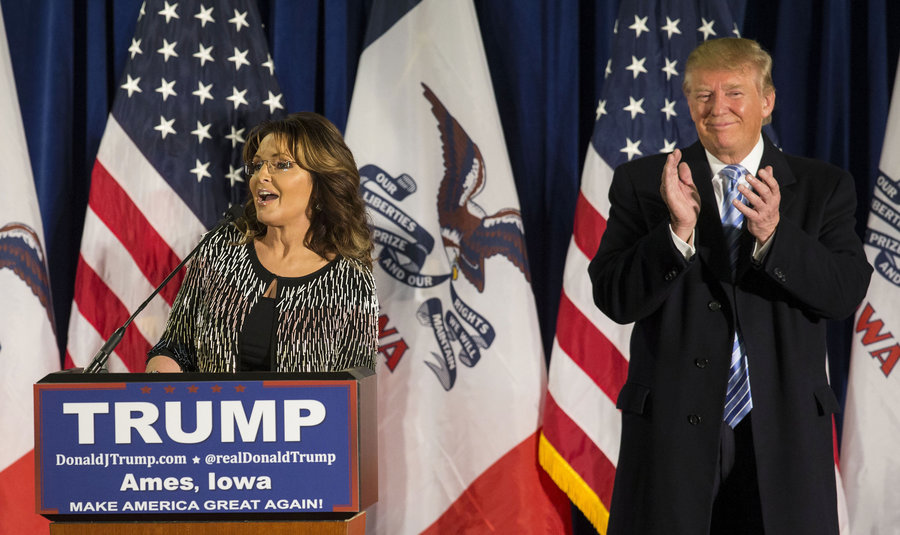 Lost in all of the commotion of the most recent self-made media controversy created by Donald J. Trump has been that we are closing in on the first actual votes being cast in the 2016 primaries. After voters go to the caucuses in Iowa on February 1st, all attention will be shift to New Hampshire, where the state will hold its primary on February 9th.
For months now, Trump has been leading the GOP polls in the state, and typically by wide margins. (On the flip side, Bernie Sanders has held a comfortable lead over fellow Democrat Hillary Clinton.) The other Republican candidates have taken to attacking each other in an effort to finish in second, or perhaps ride a late surge into a surprise victory.
While the latest poll out of the state still shows Trump as the clear leader among GOP candidates, one bit of information may reveal that his pandering to the dumb, ignorant, white resentment crowd could very well backfire on him.
Last week, the celebrity billionaire brought former Republican Vice-Presidential nominee and current drunk grifter Sarah Palin on stage at an Iowa campaign rally to endorse his run for the White House. Fresh off news that her son was arrested for drunkenly beating his girlfriend, Palin rambled on for more than half and hour, providing a garbled word salad that was immediately mocked by the media. Things only got worse the next day when she blamed President Obama for her boy kicking the shit out of a woman.
In its survey of New Hampshire voters that was released on Tuesday, Emerson College found that 55% of them were now less likely to vote for Trump due to the Palin endorsement. Only 15% said her support of the real estate mogul impacted their decision positively. Among GOP voters, a plurality saw the endorsement in a negative light, with 38% saying nuh-uh against 24% who were happy with it.
Overall, Trump is still pretty far ahead of the Republican field, coming in at 35% among likely GOP primary voters. Surprisingly, former frontrunner Jeb Bush has risen from the dead, pulling in 18% to push ahead of Ohio Governor John Kasich, who sits at 14%. Marco Rubio, Ted Cruz and Chris Christie range between five and ten percent.
Can the negative impact of Mama Grizzly lead to a shocking loss in New Hampshire? Yeah, I wouldn't go quite that far. But it does say that embracing the stupid will definitely not do Trump any favors later on in the primary, and certainly will be a deterrent in a general election.
Image via NPR