Eric Bolling Begs His Idol Donald Trump To Kiss And Make Up With Fox News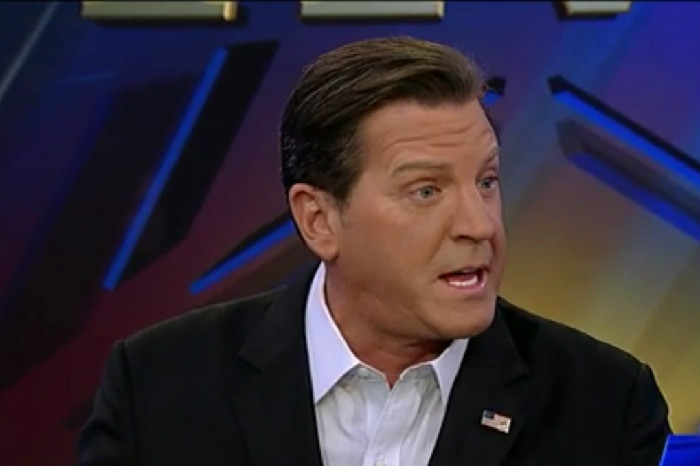 It looks like Fox News chief Roger Ailes is using his go-to mouthpieces to try to reach out to The Donald.
In an effort to use the network's airwaves to make peace with the Republican Presidential frontrunner, The Five host Eric Bolling used a segment of the program to publicly beg Donald Trump to reconsider his decision to boycott Thursday night's debate. This followed Sean Hannity using his radio program to state that Ailes was just ribbing Trump in his snarky response to the real estate mogul's request that Megyn Kelly be removed as moderator.
Calling out to Trump, Bolling said that he hoped that the celebrity billionaire could hash out a deal with the network that would lead to him appearing at the debate.
"Donald if you're listening, hopefully he's listening. You are a deal maker, make a deal. Make a last-minute deal. This is what you prided your whole campaign on. You have the most successful business book, "Art Of The Deal." Make a deal. I'm sure there are people around who would be willing to entertain a deal. Make a deal. I would be good for everybody."
After co-host Dana Perino asked him what kind of deal should be made, Bolling responded by stating that Trump would figure it out because he's the guy running for President.
Juan Williams then chimed in, telling the former daytrader that the network shouldn't give anything to the GOP candidate as that would set a terrible precedent of allowing politicians to make demands of the media. (Juan, Juan, Juan…you just haven't been paying attention, have you?)
In the end, Bolling pretty much said that Fox needs to do whatever it takes to get Trump on stage so the voters can make a decision. Yep, because that's what Bolling really cares about…the voters.
Meanwhile, Trump has already announced his 'special event' on Thursday night to serve as counter-programming. If he sticks to his guns, you know CNN and MSNBC will cut to it.
Below is video of the segment, courtesy of Media Matters: