Did Sarah Palin Blame Her Son's Domestic Assault Arrest On Obama? You Betcha!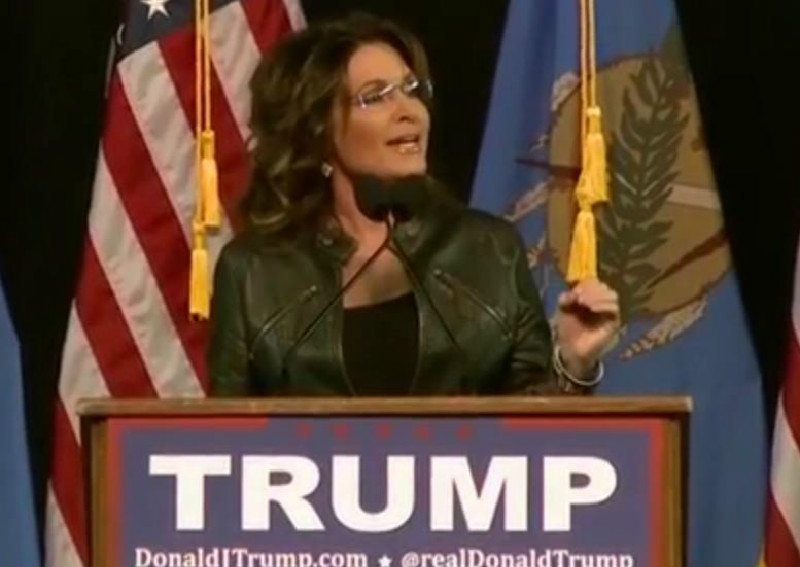 Well, you might have heard that official Donald Trump endorser Sarah Palin's son was arrested on multiple charges Monday night. Yep, the Wasilla police were called on Track Palin after he punched and kicked his girlfriend while intoxicated. He also apparently threatened to kill himself with one of the many guns he had lying around the house.
The arrest came at a bad time for Mama Palin as she was on her way to offer her support to The Donald on Tuesday. While giving a typical Palinesque speech at an Iowa rally while Trump stood uncomfortably beside her, news of Track's arrest — and the circumstances surrounding it — started spreading. By Tuesday evening, the entire police report was released by multiple media outlets, revealing the horrendous details.
After skipping a Wednesday event in Iowa in which she was supposed to appear with Trump, Palin appeared at another rally in Oklahoma. She addressed the elephant in the room like only a tipsy hockey mom who constantly deflects blame can — by saying it was all Obama's fault.
Speaking as if she might be nursing a hangover, Palin linked her son's arrest to him possibly having PTSD from his time serving in Iraq. Which, you know, could be the case. But she then added that her son's situation was made worse by President Obama disrespecting veterans, thus causing him to act out. She finished by saying if there were a real commander-in-chief, soldiers like Track wouldn't act out like this.
I am dead serious. Read her comments below and then check out the video of her remarks, courtesy of Right Wing Watch:
"My son, like so many others, they come back a bit different, they come back hardened, they come back wondering if there is that respect for what it is that their fellow soldiers and airmen and every other member of the military so sacrificially have given to the country. And that starts from the top, and it's a shame that our military personnel even have to wonder if they have to question if they're respected anymore. It starts from the top. The question, though, that comes from our own president, where they have to look at him and wonder, 'Do you know what we go through? Do you know what we're trying to do to secure America and to secure the freedoms that have been bequeathed us?'
So when my own son is going through what he goes through coming back, I can certainly relate with other families who kind of feel these ramifications of some PTSD and some of the woundedness that our soldiers do return with, and it makes me realize more than ever, it is now or never for the sake of America's finest that we'll have that commander in chief who will respect them and honor them."
So, you see, if we had a President Trump, we wouldn't have the sons of grifting reality TV stars out there beating up their girlfriends.