Virginia Mayor Calls For Syrian Refugees To Be Sequestered Like Japanese During WWII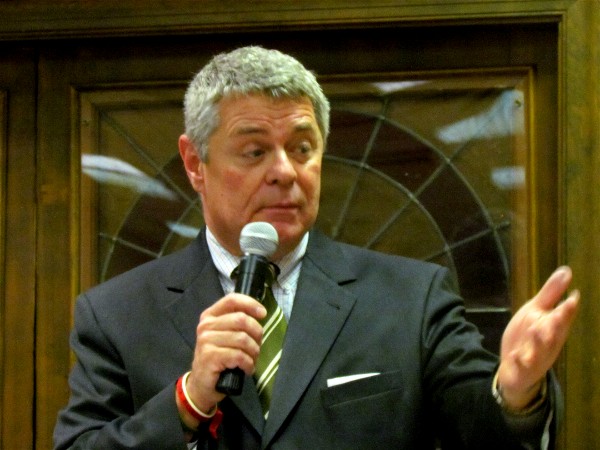 Perhaps in an effort to show Republicans that Democrats can be just as hatefully racist as them, David Bowers, Democratic Mayor of Roanoke, Virginia since 2008, released a statement on Wednesday regarding the Syrian refugee crisis that has taken over the political landscape these past few days. Like just about every Republican Governor and Presidential candidate, Bowers has publicly come out against the United States continuing with its plan to accept 10,000 migrants from war-torn Syria.
While GOP guvs have said they won't accept the refugees, and wannabe White House hopefuls are saying that we either shouldn't take them in this country or just bring in the Christian ones, Bowers decided to go one step further by invoking World War II and this country's shameful chapter regarding the Japanese.
i. literally. can. not. pic.twitter.com/t3lwuoWQzN

— Wesley Lowery (@WesleyLowery) November 18, 2015
Below is an excerpt from his statement:
"I'm reminded that President Franklin D. Roosevelt felt compelled to sequester Japanese foreign nationals after the bombing of Pearl Harbor, and it appears that the threat of harm to America from ISIS now is just as real and serious as that from our enemies then."
Wow. Just wow. This is running neck-and-neck with the Republican Tennessee lawmaker who wants to mobilize the National Guard to round up refugees in his state in terms of the biggest knee-jerk reaction we've seen regarding this whole debate. It also plays into the worst kind of xenophobic fears American people may have about Muslims and people from the Middle East. (Especially those fleeing an area that is ravaged largely due to the destabilization caused by the United States when we went to war in Iraq in 2003.)
I guess it just remains to be seen who will top this in the race for Most Bigoted Reaction To The Syrian Refugee Crisis. The competition is sure to be hot and heavy.
Image via Roanoke Free Press