Cecile Richards Tells GOP Congressman To Check His Source Over Deceptive Abortion Chart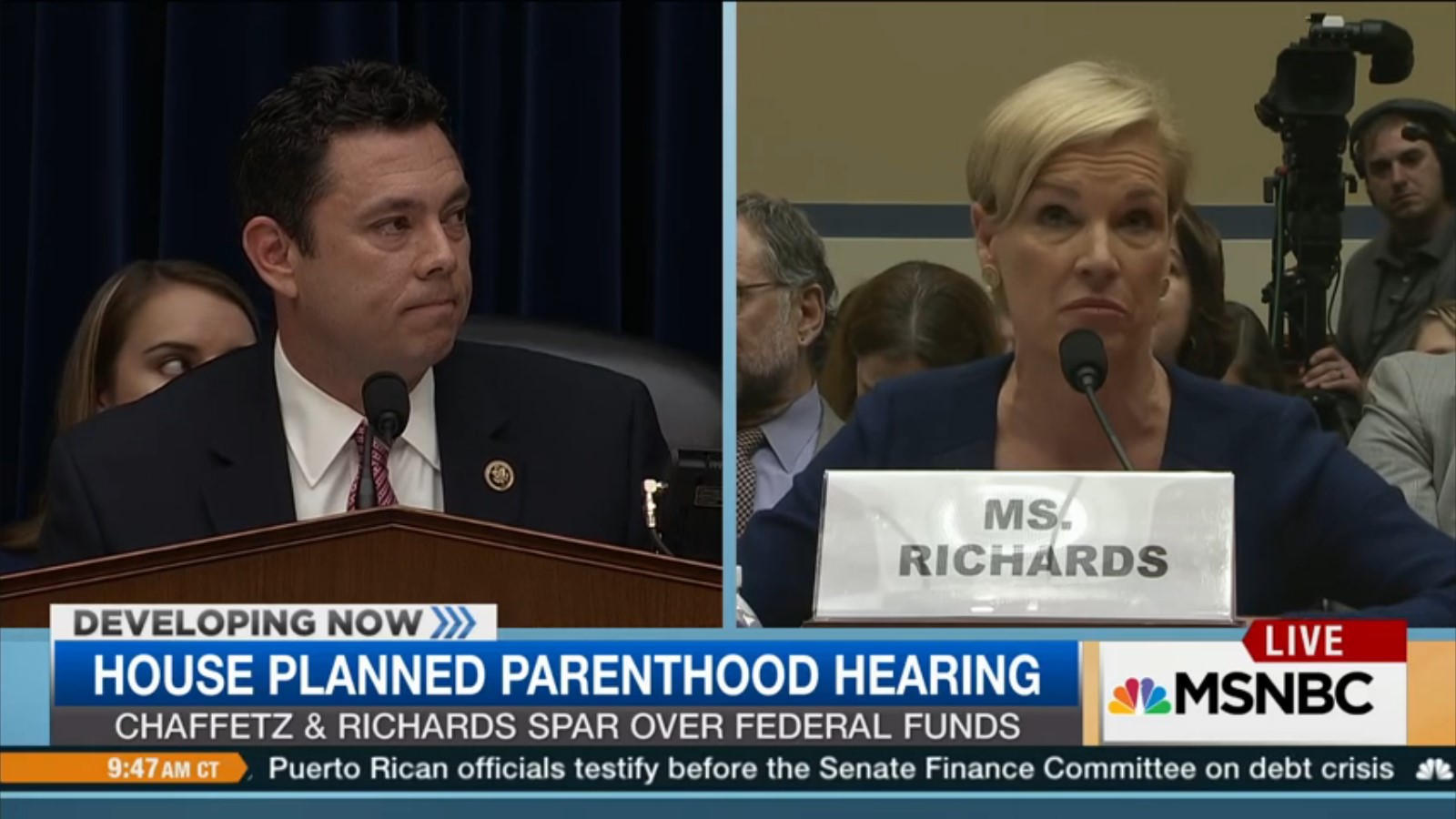 During testimony before the House Oversight and Government Reform Committee, Planned Parenthood president Cecile Richards clashed with Rep. Jason Chaffetz (R-UT), who serves as the committee chairman. Tuesday's House hearing was set to decide whether or not Planned Parenthood should continue to receive federal funding. Of course, the real reason for the hearing was so Chaffetz and other Republicans could grandstand and publicly grill Richards over abortion and the misleading and heavily edited videos released by an anti-abortion group that has energized social conservatives to pick another fight over a woman's right to choose.
Chaffetz set the tone for the hearing early on in his opening statement, letting those watching around the country know that he and other Republican committee members were going to be as fucking insufferable as humanly possible. How bad were his remarks? With tears in his eyes, he basically blamed Planned Parenthood for the death of parents. See, both of his parents died of cancer. In Chaffetz's opinion, any money "taken" from cancer research and used towards other services and organizations, like Planned Parenthood, literally leads to more people Dying from cancer.
Below is video of his comments, courtesy of Raw Story:
After that over-the-top display, Chaffetz then went in on Richards. Throughout their exchanges, he wouldn't let Richards get a word in edgewise, constantly interrupting her while she attempted to answer his questions. Per Chaffetz, he wasn't going to let Richards push forth a "big narrative," so it was necessary to speak over the top of her. He also chastised her for making a decent salary as president of the large women's health organization, leading to a rebuke from one of his colleagues, who pointed out that he never would have ridiculed a male executive income.
Despite Chaffetz's complete douchebaggery and attempt to browbeat Richards over Planned Parenthood's activities and use of funds as a non-profit, the signature moment may have come early on in his questioning. The Utah Republican posted a slide that showed that abortions have been on the rise at Planned Parenthood clinics while life-saving procedures like cancer screenings have been on the decline in recent years. While looking at the slide, Richards stated that she had never seen the chart before and couldn't accurately comment on it.
Biased data on mammograms and abortions brought to you by Republican Jason Chaffetz. pic.twitter.com/7qFLqOSjYP

— Elizabeth Plank (@feministabulous) September 29, 2015
Of course, this led to Chaffetz incredulously claiming that the slide was created from the records that Planned Parenthood had provided to Congress prior to the hearing and he couldn't believe that Richards was denying the truth behind the numbers. It was at this point that the PP head was approached by a lawyer who informed her that Chaffetz obtained the chart from Americans United for Life, an anti-abortion group. She then told Chaffetz that he should check his source, causing the Congressman to stumble a bit and say that he'll "get to the bottom of that."
Below is video of the exchange, courtesy of Talking Points Memo:
In the end, this is all just a dog and pony show to satisfy the far-right of the Republican Party, as they know that GOP leadership is not going to shut down the federal government again over a conservative cause. Especially considering that the vast majority of Americans state that any budget deal must include Planned Parenthood funding.