'Morning Joe' Continues To Kiss Donald Trump's Ass, Declares Monday His Best Day Yet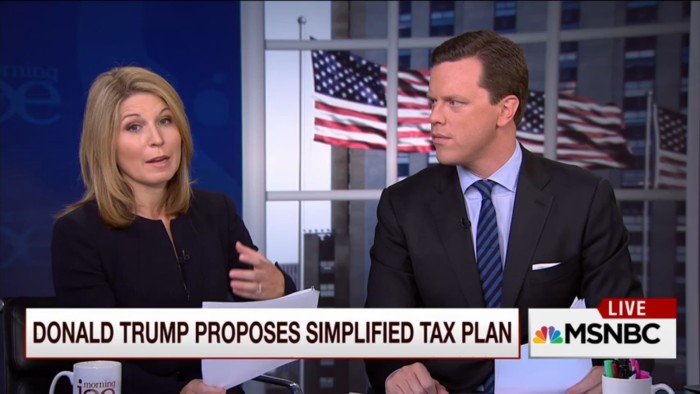 One of the constants we've noticed since reality TV star Donald Trump launched his very classy and YUUUUGE White House campaign has been the positive press he's received from MSNBC's Morning Joe. Whether it's been him appearing on a regular basis to suck up hours of free airtime or the hosts spending much of their broadcasts lavishing the real estate mogul with compliments, it has been clear that the morning program has been a close and dear friend to The Donald.
Therefore, it should not come as any surprise that the show spent a whole segment Tuesday morning kissing the celebrity billionaire's ass in regards to the ludicrous tax plan he released on Monday. Interestingly, both Mika Brzezinski and Joe Scarborough — Trump's two biggest supporters — were not on set, and Willie Geist and Nicolle Wallace were tasked with bending the knee before the Trumpster. For Wallace, this was no problem whatsoever, as she's always been a GOP sycophant and is a loyal Scarborough understudy. However, for Geist, one has to be somewhat disappointed in him for following the show's script to a tee.
In discussing Trump's tax plan, Wallace immediately declared that Monday was one of the Republican frontrunner's "best days yet," getting agreement from political hack Mark Halperin. Meanwhile, Geist expressed admiration for Trump's speech announcing the plan, stating that he looked more statesmanlike since he actually read from a script when discussing the details of his plan rather than spending the whole time rambling on incoherently. Apparently, a person gets credit for sounding semi-rational for a few minutes before going off the rails, at least if that person has a tendency to always sound like an insane egotist.
After Wallace, Halperin and Geist were done slurping Mr. Trump, the conversation turned towards Mark Leibovich, who wrote the 298,673rd profile piece on The Donald we've seen over the past three months. (Seriously, I'm pretty sure every major publication has done at least a couple of in-depth interviews with the man.) After getting his opinion for a bit, MSNBC contributor Jonathan Capehart chimed in, highlighting his belief that Trump's rhetoric and bombastic style will do long-term damage to the GOP and greatly hurt the nation's chance at having a vibrant two-party system.
In the end, Leibovich disagreed with Capehart, stating that he thinks that Trump is doing a service to politics by being so candid and unfiltered on the trail. He also expressed admiration for Trump for being extremely wealthy, therefore being able to dismiss the "donor class" and use mainstream media to his advantage. (Doesn't that seem dangerous, Mark?) Overall, while Leibovich's piece and his appearance on Morning Joe weren't all about portraying Trump in a flattering light, he certainly seemed to go out of his way to be complimentary to him.
So, what did we learn? Well, we learned that despite indications that Trump has hit his ceiling, and most people are getting sick and tired of his act at this point, Morning Joe will stick with him right to the end.
Below is video of the segment, courtesy of MSNBC: