Donald Trump Claims He Loves "The Mexican People" But "Mexico Is Not Our Friend"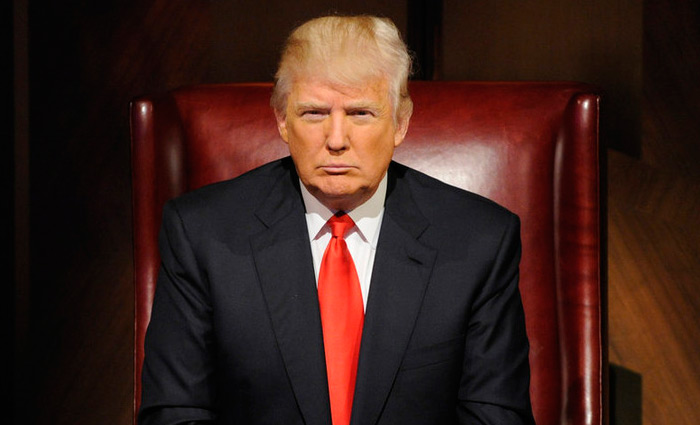 Less than 24 hours after NBC announced that they had cut all ties with walking insult generator Donald Trump over offensive remarks he had made about Mexicans during his Presidential campaign kickoff announcement, The Donald sent out a couple of tweets in which he stated that "Mexico is not our friend" and that the United States needs to "fight" the country. The real estate mogul also pointed out that he "love[s] the Mexican people" but "they're killing us at the border." During his rambling speech a couple of weeks ago where he announced he is running for President, Trump said that Mexicans coming to the United States are rapists and drug dealers.
NBC found itself with a decision to make after Spanish-language broadcaster Univision decided to break off its relationship with Trump on Friday over his bigoted comments. A petition with over 200,000 signatures was delivered to NBC over the weekend and protesters demanded the network get rid of Trump. Besides his Miss USA and Miss Universe beauty pageants, Trump also was associated with The Apprentice franchise, though only as a cast member and not for the upcoming season as he ran for POTUS. They released a statement early Monday afternoon telling The Donald to get lost. Of course, Trump answered in kind with his own statement, in typical Donald fashion.
As of today, Donald J. Trump is no longer affiliated with NBC. Mr. Trump stands by his statements on illegal immigration, which are accurate. NBC is weak, and like everybody else is trying to be politically correct— that is why our country is in serious trouble.
We must have strong borders and not let illegal immigrants enter the United States. As has been stated continuously in the press, people are pouring across our borders unabated. Public reports routinely state great amounts of crime are being committed by illegal immigrants. This must be stopped and it must be stopped now. Long ago I told NBC that I would not being doing The Apprentice because I am running for President in order to Make our Country Great Again.
If NBC is so weak and so foolish to not understand the serious illegal immigration problem in the United States, coupled with the horrendous and unfair trade deals we are making with Mexico, then their contract violating closure of Miss Universe/Miss USA will be determined in court. Furthermore, they will stand behind lying Brian Williams, but won't stand behind people that tell it like it is, as unpleasant as that may be.
Personally, I am a little miffed that Trump didn't use the term 'loser' in his press release. However, that is more than made up by his writing the letter in the third-person and tossing in a Brian Williams reference.
Anyway, below are the two tweets that Trump sent out on Tuesday morning in reference to Mexico. (Also, I like how Trump apparently believes that Mexico is "sending" immigrants to the United States as if it is a government effort.)
We MUST have strong borders and stop illegal immigration. Without that we do not have a country. Also, Mexico is killing U.S. on trade. WIN!

— Donald J. Trump (@realDonaldTrump) June 30, 2015
I love the Mexican people, but Mexico is not our friend. They're killing us at the border and they're killing us on jobs and trade. FIGHT!

— Donald J. Trump (@realDonaldTrump) June 30, 2015
It looks like Trump spent the remainder of his morning scanning his Twitter feed and retweeting complimentary posts from his fans to make him feel better about himself. (Take a look at his timeline. Trump does this a LOT.) Once again, it should be noted. This is a serious GOP candidate for President, who in a recent New Hampshire poll trailed only Jeb Bush among Republicans.