Seb Gorka Slams Left Over Stephen Moore's Failed Federal Reserve Bid: 'Alinsky on Steroids!'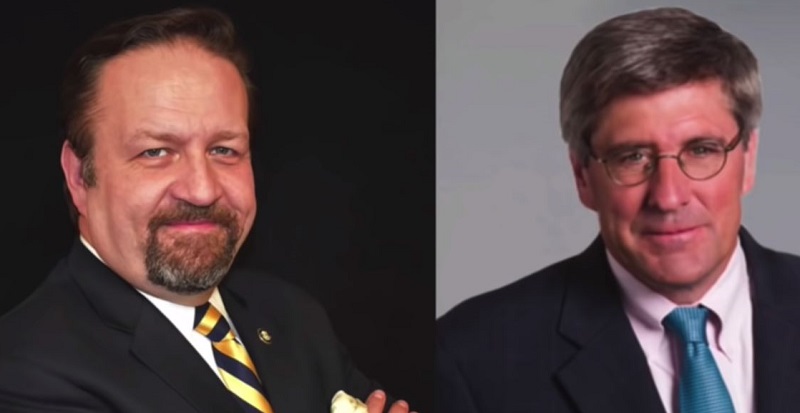 Former Trump strategist and guy who treats parking signs as mere suggestions Sebastian Gorka is appalled that Stephen Moore's nomination for a seat on the Federal Reserve was sunk by things Moore said and did.
Gorka hosted Moore on his radio show on Monday to give him a chance to vent about the left's "campaign" against him.
"They were terrified of me," Moore told Gorka as he raged against reporters who dug up his sexist, misogynist and racist writings and speeches that dominated headlines about his nomination for a couple of weeks before he withdrew from consideration last Thursday.
Before that, Gorka accused the "squishes" on Capitol Hill, by which he meant the Republicans who said they would not vote for Moore to be seated on the board, of losing their nerve.
"We just have to lean in and double down on the personal attack politics of the left," Gorka said, perhaps forgetting for a moment that he used to work for Donald Trump.
"I've said some things over the years that…were a little bit outrageous, that's my style," Moore responded, and yes, "outrageous" is one way to describe making racist cracks about the first African-American family to live in the White House.
He then complained about "this campaign of personal destruction," which led Gorka to sputter, "It's outrageous…this is Saul Alinsky on steroids!"
The two men then agreed that liberals "are both stupid and evil" and are afraid to debate him on actual economic issues. Which is why it is a bit of a shame is nomination sank over personal views and behaviors, because when economic experts have debated him on economic issues, they have made him look utterly stupid.
But Moore will likely continue this grievance tour over his failed nomination in the friendly confines of conservative media, which is happy to give him a platform to complain without having to answer any tough questions.
Listen to Gorka and Moore's conversation in the video up top, via Salem Radio Network.