Trump Federal Reserve Pick Stephen Moore Withdraws From Consideration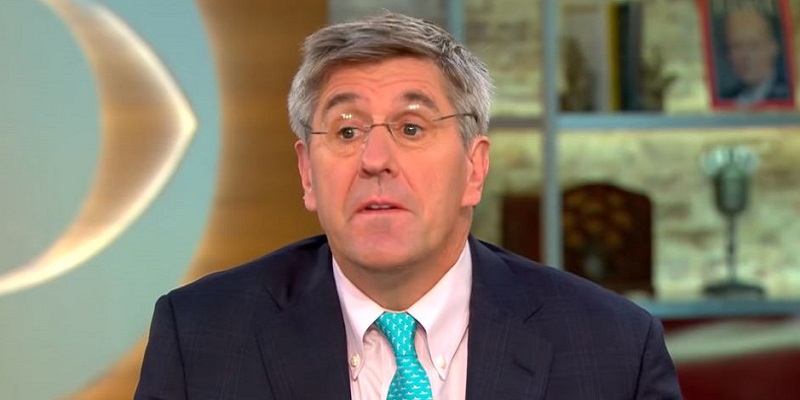 With support for his nomination to the Federal Reserve cratering among GOP Senators after a number of offensive and embarrassing old comments and articles have resurfaced in recent weeks, longtime conservative pundit and economist Stephen Moore withdrew his name from consideration on Thursday.
The president announced his withdrawl via, yes, Twitter.
Steve Moore, a great pro-growth economist and a truly fine person, has decided to withdraw from the Fed process. Steve won the battle of ideas including Tax Cuts….

— Donald J. Trump (@realDonaldTrump) May 2, 2019
….and deregulation which have produced non-inflationary prosperity for all Americans. I've asked Steve to work with me toward future economic growth in our Country.

— Donald J. Trump (@realDonaldTrump) May 2, 2019
Since President Trump named him as his choice to fill a seat on the Federal Reserve Board in late March, Moore has been hounded by past remarks in which he said it was a "travesty" for women to play sports with men, claimed women wanted "equal pay for inferior work, and repeatedly boasted that he liked working for Fox News because he met "a lot of beautiful women there."
In response to some of these sexist and misogynistic comments, Moore brushed them off as "a spoof" and told a radio host that his critics were "pulling a Kavanaugh against me."
While these old comments didn't help his cause with Senate Republicans, it also didn't help that it was discovered that the informal Trump economic advisor had once called Ohio cities Cincinnati and Cleveland the "armpits of America" — blasting Sen. Rob Portman's (R-OH) hometown — and attacked Sen. Johnny Isakson (R-GA) during his 2004 Senate race against Herman Cain.
Toss in Moore's admitted lack of expertise on Fed policies, his past embrace of the gold standard, and the fact that he recently had to pay a tax lien of $75,000 and the writing was on the wall. Especially after the New York Times reported that the White House was reviewing Moore's old writings.
On Tuesday, Sen. Joni Ernst (R-IA) said that it was "very unlikely" that she would support a Moore nomination, adding that several colleagues agreed with her position and she didn't think he'd be confirmed.
🚨Joni Ernst gives stronger statement on Stephen Moore for the Fed board🚨

"Very unlikely that I would support that person," she says. She previously said she wasn't enthused by the pick.

She tells me she has shared her position with the White House.

— Haley Byrd (@byrdinator) April 30, 2019
Just caught up with her again: she says several of her colleagues have privately agreed with her opposition to Moore.

Would he be confirmed if he came up for a vote today? "I don't think so," she tells me.

— Haley Byrd (@byrdinator) April 30, 2019
Sen. Lindsey Graham (R-SC), meanwhile, said Tuesday that he was "still looking at it but it would be very problematic."