Trump Fed Pick Stephen Moore Defends Sexist and Misogynistic Columns: 'It Was a Spoof'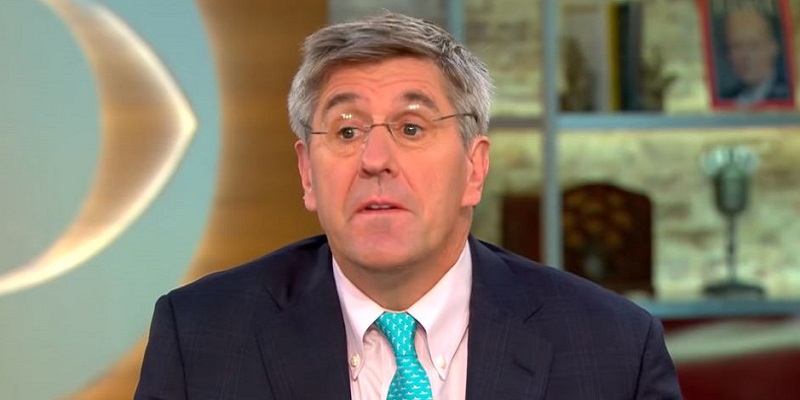 Stephen Moore needs to leave satire to satirists.
CNN dug up some old columns the conservative economist, writer and economic advisor to Donald Trump wrote for National Review in the early 2000s. The columns all tackled Moore's passion for college basketball, particularly the NCAA tournament, for which by he will ignore all other family and social obligations in order to watch every possible minute.
The columns were also filled with such misogynistic gems as Moore complaining about women being allowed to referee men's games, women being used as announcers for men's games, saying that he hates women's basketball, complaints about the "feminization of basketball" because ESPN broadcasts women's games, and calls for CBS announcer Bonnie Bernstein to always wear a halter top. That last one seemed to be just an excuse for Moore to paraphrase Mike Meyers in Wayne's World with the comment, "If Bonnie were President of the United States, she'd be Babe-raham Lincoln."
Asked for comment by CNN's KFile team, Moore said, "This was a spoof. I have a sense of humor."
This is a particularly ridiculous claim. One column called it a "travesty" that women now participate in rec league and club games with men. Moore wrote that when he plays basketball, he bites, throws elbows, and "curses like a sailor," before adding "I think I speak for almost all men when I respectfully tell the ladies that we don't want you anywhere around during these precious moments of male bonding."
This is not a spoof, it is an unfunny columnist trying to hit his minimum word count before deadline.
Bonnie Bernstein, for one, did not find Moore's comments funny:
.@KFILE @StephenMoore You want halter tops? Hit the club scene.

You want hoops knowledge?

Try actually listening. https://t.co/HKsd4wRbQ6

— Bonnie Bernstein (@BonnieBernstein) April 22, 2019
No word on whether this latest controversy will cause Moore to join his fellow Federal Reserve Board nominee Herman Cain in withdrawing his nomination. He probably won't, if for no other reason than he doesn't have a career as a comedian to fall back on.