Florida Man Arrested For Threatening to Kill Ilhan Omar and Other Democratic Lawmakers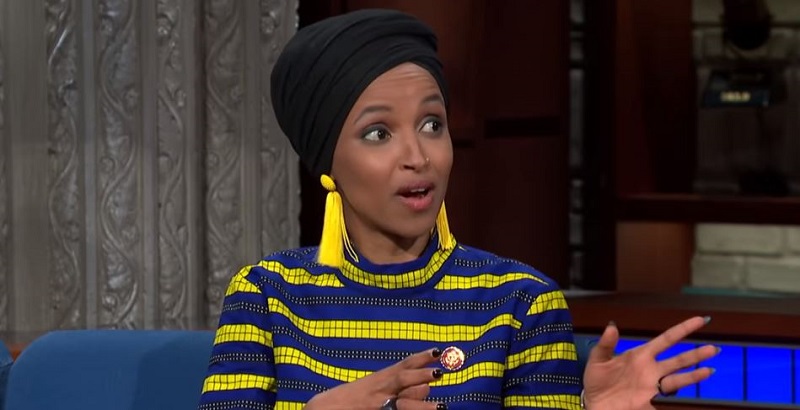 The right wing has put a lot of effort into claiming its recent attacks on Rep. Ilhan Omar (D-MN) are merely harsh criticism of her comments about 9/11 and not incitement of violence against her. This already ridiculous stance becomes harder to maintain every time some conservative gets arrested for threatening to murder her.
Federal authorities have arrested John Kless of Florida after he allegedly left voicemails at the offices of several Democratic members of Congress, including Reps. Rashida Tlaib and Eric Swalwell and Sen. Cory Booker, in which he threatened to murder them.
Though he did not leave a message at Omar's office, he repeatedly referenced her in the ones he left with the other Democrats, calling her a "towel head" and a member of the Taliban, according to the Miami New Times.
In addition to the threats against Omar, Kless allegedly told Swalwell he would kill the congressman over his pro-gun control stance, called Booker a stream of racist insults, and told Tlaib, who is also Muslim, that she should tell Omar "to shut the fuck up."
Kless is the second person arrested in just the last month for threatening to assassinate Omar. These arrests come just as conservatives have turned her into their latest bogeyman, first over allegedly antisemitic comments about the Israeli lobby in Congress and then with a willful misrepresentation of her "some people did something" comments about the 9/11 attacks.
In response, right-wing media has piled on her, leading to a number of death threats against her and her family. On Fox, Brian Kilmeade questioned whether Omar is "an American first." Jeanine Pirro wondered if the fact Omar wears a hijab means she doesn't believe in the Constitution, a comment that got Pirro suspended from her Fox News show for two weeks. (The publicity seems to have given her a ratings boost when she came back.) Tucker Carlson and Laura Ingraham both sneered at concerns from the left that all this attention could be dangerous. The New York Post had such an offensive cover referencing her 9/11 comments that Yemeni bodega owners across New York City now refuse to stock the tabloid.
Members of Congress such as Rep. Dan Crenshaw (R-TX) also harshly criticized Omar's patriotism. Trump advisors and the president himself were vicious in their condemnations, with the president tweeting out a video juxtaposing Omar's 9/11 comments with images of the Twin Towers burning and collapsing after the attacks.
All of this rabid Islamophobia and racism painting one Muslim woman as suspicious is bound to rile up the unstable and angry people out in the country. When they see major media and political figures like the President of the United States joining in the pile-on, they take it as a signal that they have the right to act against Ilhan Omar. People like Kless will keep revealing themselves so long as the nativist right keeps inciting them.